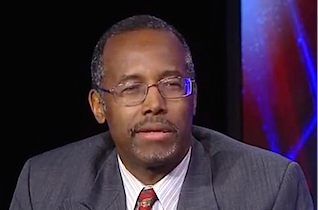 As Ferguson, Missouri exploded last week following the grand jury decision not to indict Officer Darren Wilson in the shooting death of Michael Brown, Dr. Ben Carson visited America Family Radio's "Today's Issues," where he used some roundabout logic to connect the "women's lib movement" and the "Me" generation to the behavior that he believes leads unarmed teenagers like Brown to be shot and killed.
"Certainly in a lot of our inner cities, in particular the black inner cities, where 73 percent of the young people are born out of wedlock, the majority of them have no father figure in their life," Carson said, something that he said makes kids "have no idea how to respond to authority."
"You eventually run into the police or you run into somebody else in the neighborhood who also doesn't know how to respond but is badder than you are, and you get killed or you end up in the penal system," he continued. Jumping off of comments about "entitlement" made by the show's host Lauren Kitchen Stewards, Carson attempted to trace the origins of those sentiments.
RELATED: Ben Carson on Ferguson: We Should Remember 'Police Are Individuals Too'
"I think a lot of it really got started in the '60s with the 'Me' generation. 'What's in it for me?'" he said. "I hate to say it, but a lot of it had to do with the women's lib movement. You know, 'I've been taking care of my family, I've been doing that, what about me?' You know, it really should be about us."
So, to get this straight, because women in the 1960s and '70s wanted equality, Michael Brown had no respect for authority and is therefore responsible for his own death?
Watch video below, via America Family Radio:
[h/t RWW]
[Photo via screengrab]
— —
>> Follow Matt Wilstein (@TheMattWilstein) on Twitter
Have a tip we should know? tips@mediaite.com