Ben Carson: 'Nothing I've Said Is an Inflammatory Comment,' All the Media's Fault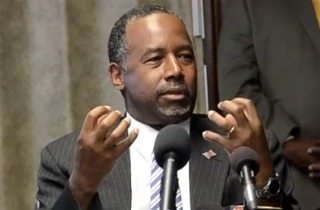 Ben Carson has made a series of controversial remarks about guns and gun control in the past week––from saying he would not just "stand there and let" a gunman shoot him to saying that if the Jews hadn't been disarmed they could have put up a greater resistance to the Nazis––but as far as he's concerned he's said nothing wrong and it's all on the media for distorting his words.
Carson spoke to The Hill today and declared, "I am not making inflammatory comments, although the media will try and turn it into inflammatory comments, but nothing that I've said is an inflammatory comment and that's not the way that people see it."
His argument is that he doesn't want to be elected to office under "false pretenses," and it's the fault of "the left-wing media" for suggesting he might be going overboard:
We need the media to develop a conscience and start working for the people and stop having their own ideological agenda. I hope I didn't give the impression that they're all bad, but there's a substantial majority that have an agenda. I'm still hopeful that the media will come to their senses … and step up to the plate with some real integrity. I haven't given up on them. If I had, I wouldn't say anything about them. It's just like a child that you want to correct. If you don't say anything, they become unruly.
He also considers it "immature" of people to tune out what he says just because he used Hitler to make a point about his political positions.
[image via screengrab]
— —
Follow Josh Feldman on Twitter: @feldmaniac
Have a tip we should know? tips@mediaite.com
Josh Feldman - Senior Editor