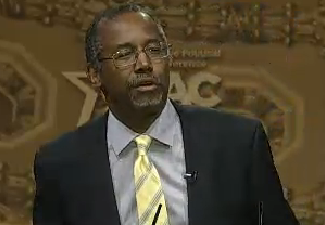 Not long ago, neurosurgeon Ben Carson wrote that he would only consider a GOP presidential run if he felt "called by God" to enter politics. This week, however, he said he is "starting to feel" that calling.
Carson became a conservative icon last year after delivering searing remarks about the Affordable Care Act and the general direction of this country — all with with President Obama seated at the dais nearby.

He soon retired from his long-held position at Johns Hopkins Hospital and began speaking around the country, inking a Fox News contributor deal along the way.
-RELATED: Ben Carson Goes Godwin: America 'Very Much Like Nazi Germany'
As pundits began suggesting Carson would make a good Republican presidential nominee, the doctor wrote in his book that, despite there being a plethora of better candidates, "If I felt called by God to officially enter the world of politics, I would certainly not hesitate to do so."
But in an interview with The Weekly Standard this week, Carson said he's "starting to feel" those calls. "[E]very place I go, it's unbelievable." He described how an experience with a woman "really touched me the other night… She just kept clinging to my hand and said, 'You have to run. You have to run.' And so many people tell me that, and so I think I'm starting to hear something."
-RELATED: Ben Carson: White Liberals Are 'The Most Racist People,' They Don't Want Me to Leave 'Plantation'
Of course, Carson also recognizes the gravity of a presidential run, telling the Standard's Fred Barnes:
It's a daunting thing … I know how vehemently the left will come after you, try to destroy you, try to destroy your family. But at the same time I recognize that people like Nathan Hale -– he said, 'My only regret is I have but one life to give to my country' … And if everybody runs for the hills because they're afraid that somebody is going to attack them or their family, then [the left] will have won.
Read the full interview here.
[Image via CSPAN]
— —
>> Follow Andrew Kirell (@AndrewKirell) on Twitter
Have a tip we should know? tips@mediaite.com