Ben Stein Calls Out 'Huge Problem' For GOP: 'We Do Not Know Who Mitt Romney Is'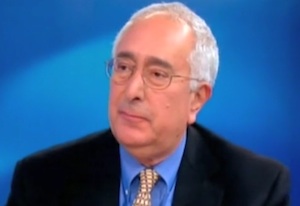 The presidential debate is a day away and we don't know anything about GOP candidate Mitt Romney, according to political commentator Ben Stein, who attests in a new American Spectator piece that the former Massachusetts governor's hazy poorly defined identity presents trouble for potential voters.
"But we also have a huge problem of our own making: we do not know who Mitt Romney is," the former speechwriter for Richard Nixon and Gerald Ford wrote.

"Even to me, who is a political animal, Mr. Romney is a mystery man. Is he 'the best, most honest governor Massachusetts has ever had' but a distinct liberal? Or is he now a conservative? What does he stand for? And what does it mean that he is a Mormon?"
Stein goes on to explain that it's perfectly acceptable to subscribe to Mormonism, but that we don't know enough of where Romney stands with regards to religion:
I worry about that last one. I love the Church of Jesus Christ of Latter-day Saints. Mormons are honest and fantastically patriotic and hard working. But what does it mean to believe in Mormonism? A close friend said she could not vote for him although she is a Republican because, she said, "Mormons are not Christians…"

We know what Mr. Obama is and what he stands for.
Stein is no new critic to Romney, whom he declares "a mystery." In August, Stein said Romney had "the look of a losing candidate" without a concrete way to improve our country:
"Mr. Romney does not have a plan to turn things around. All he's saying, and correctly so, is that Mr. Obama said he had a plan that would work and it didn't," Stein said. "But does Mr. Romney have a better plan? If he does, we haven't seen it."
In short, Stein has no love for the Republican contender.
Read the full article here.
—
>> Follow Laura (@LauraDonovanUA) on Twitter
Have a tip we should know? tips@mediaite.com