Benjamin Netanyahu's Son Complains On Facebook: 'Terror Has A Religion And It Is Islam'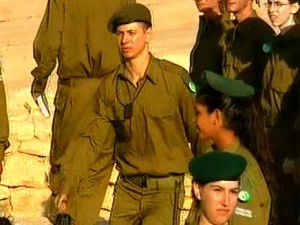 Yair Netanyahu, the 19-year-old son of Israeli prime minister Benjamin Netanyahu, is typical of many in his generation: He uses Facebook as a means of broadcasting his thoughts, emotional state and political beliefs. This becomes a problem, of course, when your father is at the helm of a nation currently embroiled in a raging, ongoing debate over land and religion and you say things like, say, Muslims "celebrate hate and death" or that "terror has a religion and it is Islam." Did we mention Yair is also enlisted in the Israeli military's media liaison unit?
According to Israeli daily newspaper Haaretz, Yair wrote the above comments earlier this year in the wake of an attack on a West Bank settlement that resulted in the stabbing deaths of five Israelis.
The report also mentions that, when Yair was 17, he created a Facebook group calling for a boycott of Arab businesses and resorting to foul language in describing his Arab neighbors ("Beside, I boycotted those sh*ts even before."). He has also broadcast his own take on politics, opining that there has "never been" a Palestinian state and that he hopes one never exists.
The Netanyahus' lawyer, David Shimron, played up Yair's young age, saying that Haaretz presented "the cynical use of the words of a teenager" and that these were "taken out of context." The daily paper's report included other slightly less controversial nuggets of information about Yair's online activities as well:
The younger Netanyahu's Facebook page also included comments on the Israeli version of the TV show Big Brother and a "like" directed at Israeli supermodel Bar Refaeli, alongside photos of himself with world leaders like Bill Clinton and Silvio Berlusconi.
Shimron added that the Prime Minister and his wife, Sara, teach their two sons tolerance for all, regardless of race or religion.
h/t The Blaze
Have a tip we should know? tips@mediaite.com