Beware The 'Muffin Macer': Woman Sprays Man In Face After Intense Convenience Store Argument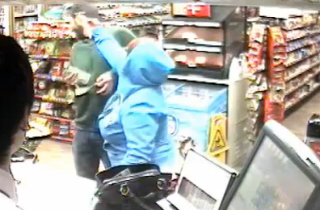 Beware the "Muffin Macer."
Surveillance footage from a Duluth, Minn., SuperAmerica store shows a woman spraying another customer last month with mace after the two argued for what seems like forever about her slowness to complete her purchase and leave the store.
An unidentified male customer, fed up with how long the woman was taking to decide on a pack of cigarettes, approached the cashier and asked the clerk to get him some Camel Lights first. The woman immediately became agitated, turning to the other customer and saying: "Fuckin' A, you wait."
After deciding on her cigarettes, she added, "And now I'm not done, asshole!"
"Take all the time you need," the man sarcastically shot back.
"Next time, you act like you watch your step when you talking to me," she warned the man before telling him to get back into that "nice-ass parking lot." She then began piling shrink-wrapped muffins, one by one, onto the cashier's counter to spite the impatient man.
"Buy a bunch of muffins. You'll show me," the man mocked as she continued to deliberately pick out food items.
Eventually his taunts pushed the woman over the edge. As he counted that she had "only 15 muffins," she responded by pointing her finger in his face and shouting, "There's only about 15 ass-whoopings if you don't get the fuck out my face!"
As she became more heated, the man became more and more amused, telling her that she is "cracking him up." Clearly this only served to worsen the situation, as the woman eventually threatened to have her boyfriend beat him up.
After the laughing man said, "Come on, have a little sense of humor," the woman clearly began fishing through her purse for what looks like a small cylinder of mace.
"Say something else," she threatened him. As he continued to giggle, she turned around and sprayed him directly in the face. "Didn't I tell your dumb ass?" she yelled.
"I didn't get enough muffins!" she shouted as she stormed out of the store and the man stumbled backwards to shield his now-burning eyes.
The oddest part of the whole ordeal: the clerk felt absolutely no need to step in. And even after the spraying, he stood still, meekly asking the male customer, "Are you alright, man?"
It is unknown whether the footage has been used to press charges against the assaulting female.
Watch the whole NSFW (graphic language) incident below, via YouTube:
— —
>> Follow Andrew Kirell (@AndrewKirell) on Twitter
Have a tip we should know? tips@mediaite.com