Bill Ayers To Occupy Protests: Let 'Teachers And Nurses' Board Planes Before Military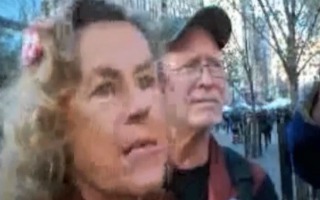 On Friday, March 30, progressive activists Bill Ayers and Bernadine Dohrn made a visit to the recently reconstituted OWS encampment in New York City. There, Ayers and Dohrn lamented the decline of the American economy even as the military expanded. Both took the opportunity to praise the spirit of the "occupiers."
RELATED: Occupy Wall Street Marks Anniversary With Zuccotti Park Protests
According to a report in The Blaze, Dohrn told the group of Occupiers that she believed the United States was a "virulent and expanding military power" even as the nation declined as an economic and political power:
"In a declining empire, which, you know, the United States is, let's agree, the United States is a declining economic and political power even while it's a virulent and expanding military power, a very dangerous combination. But in that, I just want to suggest that I think that what looks very strong is often very weak. It is very weak. Even though, this military force, the United States is Sparta. Yes, in many ways, national security … it's all The United States seems to have to offer. It isn't jobs or healthcare or public education or public parks or public libraries, it's security, security, security. We don't want that kind of a future, Occupy doesn't want that kind of a future."
Ayers, too, lamented the militarization of American society, and questioned the practice of allowing uniformed military personnel to board commercial aircraft first which he believes further reinforces that notion.
"We are living in a militarized society. That, that, it's clear what the message is from power. The message is that Occupy represents violence, and marginalization and insanity, when in reality it's the 1% that represents violence, and insanity and militarism. We've got a militarized society and it's become so common sense that, getting on the airplane coming out here, the first thing they said was let all the, uhh, let all the ya know, uniformed military get on first and thank you for your service. And I said as I always do: let's let the teachers and nurses get on first and thank them for their service. I mean, why is it that everything military has got to be good and everything that has to do with actual work, real work, not jobs, real work for people, that stuff gets discouraged and marginalized."
The Occupy movement first coalesced on September 17, 2011 but has gone underground over the winter. The group has promised a resurgence as the weather warms this spring.
Watch Ayers and Dohrn speak at the Occupy encampment below via The Blaze:
h/t The Blaze
Have a tip we should know? tips@mediaite.com