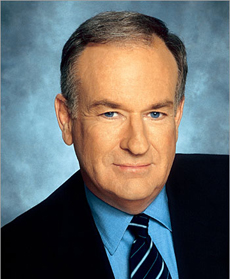 Bill O'Reilly is not to be messed with…unless you of course you're name is Barack Obama. "I have more power than anybody other than the president," he says in a Newsweek profile this week, meant to coincide with the release of his co-written book, Killing Lincoln. The Fox News host has turned fifteen years on-air into cable news largest viewership, and — as far as he, himself, is concerned — nearly unprecedented power. "I can get things changed, quickly," he says. "I don't have to go through the legislative process; I don't have to do any of that. I can just bring it to the people, and say, look, this has gotta be dealt with."
Through the years, he has been able to get nearly anyone he's wanted on his show, and once he's got them, there's no telling what he'll do. But for most, it's worth it. "They get huge, huge currency," O'Reilly says, in regards to the tough questions he makes his guests face. "I mean, the upside is just enormous."
Not everyone is so smart as to realize this, though. Former Vice President Dick Cheney — a guest O'Reilly says he would covet, if only he'd accept an invitation — is missing out by playing things safe:
"There is a fear factor," O'Reilly explains. "I've watched four or five of his interviews—I mean, it's all cupcakes, you know? I ask 'em questions, all right? Obama. I mean, when Obama sits with me, he doesn't know what the hell's coming, and it's exciting. It's exciting."
He speaks highly of Obama, who has been on his show twice, both times to much fanfare:
"A guy like Obama, he's got reason to be afraid, and he's not," he says. "He's composed; he likes to joust. There are personalities that do, and there are personalities that don't."
As Newsweek's Peter Boyer points out, O'Reilly's political inclinations are neither Republican nor Democrat, exactly:
O'Reilly's liberal critics tend to cast him as the biggest bogeyman of the Fox News–Republican conspiracy, but he insistently disclaims ideology—asserting an independence that, in a relative sense, has some merit. Where Sean Hannity's positions on a given partisan issue can be reliably predicted ("He has a Republican show," O'Reilly says, "and Republicans should have a show"), O'Reilly is not strictly doctrinaire except for a slavish adherence to what might be called the Ideology of Bill.
As tension continues to grow the Right and the Left, Obama might be well served to sit down again with the Papa Bear. This is a tactic that has worked for the President in the past, and it's hard to imagine that O'Reilly's the only one who knows it.
Read the rest of the profile at The Daily Beast
Have a tip we should know? tips@mediaite.com