Bill O'Reilly Interview Used To Sell Questionable Financial Advice Newsletter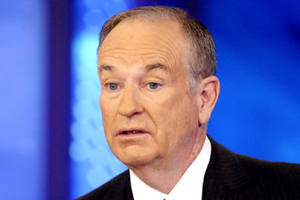 In an otherwise easily-forgettable video touting a newsletter on a "forgotten, seven-state Constitutional Clause" that could help you cash in on IRS payouts, one "Bill Spetrino," an economics personality of dubious presentation, gets an endorsement of his product from Fox News megastar Bill O'Reilly. Why would O'Reilly willingly involve himself in something so sketchy? Don't ask him: Fox News representatives say had no idea he was in this video at all.
The "Dividend Machine" newsletter ran its ad– and the video– through the conservative website Newsmax, for which O'Reilly apparently believed he was being interviewed. He appears in a video entitled "Economic Crisis Summit" and recommends that people buy "stocks that are beaten up" that pay a dividend, but not to blindly follow his advice. The interview then leads into an interview with Spetrino where the latter interprets O'Reilly's comments as favorable to his product.
Kathy Kristof of CBS MarketWatch broke the newsletter scheme story, predicting that O'Reilly was "duped" into working with the "smarmy-looking" Spetrino. Almost immediately after publishing, Kristof reports that the video and all mention of O'Reilly was taken down, though the ad is still there.
According to the New York Times, Fox News is denying that O'Reilly had any idea of what the interview was being used for. Fox News executive vice president Bill Shine told the Times that the "Dividend Machine" crew "took an interview that Bill did and used it for other purposes… we're all disappointed in this." He also added that the event was "was looked upon as Bill having a speaking engagement. That's the way it was represented to Bill" and that O'Reilly had no "financial stake" in the ad.
The Times also reports that the video is still on Spetrino's personal website, but last we checked, it had been taken down. Spetrino (and, by proxy, Newsmax) have no real reason to keep the video up now that O'Reilly and Fox News have denied knowing they were involved– it's not like it can do anything for their credibility. No word on whether O'Reilly will take legal action given the swiftness with which the video was taken down, but chances are Sptrino is going to need that forgotten Constitutional Clause to work the miracles he claims it can, and soon.
Have a tip we should know? tips@mediaite.com