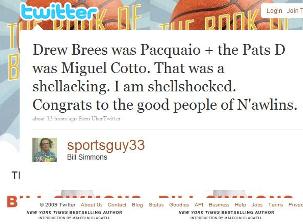 After serving a suspension from Twitter by ESPN, Bill Simmons returned yesterday to the social media site and tweeted up a storm.
Interestingly, much of it coincided with ESPN's Monday Night Football game between Simmmons' New England Patriots and the New Orleans Saints – the seemingly perfect venue for both sides.
If the suspension was really two weeks, as has been reported elsewhere, that would mean it began November 16. Since that time, Simmons has only tweeted about his book tour, and that ceased completely on November 21. But early yesterday morning, @Sportsguy33 was back.
It began with an old-school WWE YouTube clip (see below), that acknowledged the suspension, and ESPN's lifting of it. Following that, a joke he's probably been waiting to throw out there for a few days:
After Mrs. Tiger broke Tiger's SUV window to "save him," did she perform CPR by strangling him with his '97 Masters jacket?
But the majority of the tweets took place during ESPN's broadcast of the NFL game. There was a joking jab at ESPN's announcers…
Vegas over/under for times "What a GREAT throw!" will be gushingly yelped by Jaws/Gruden tonight: 28 1/2. I banged the over.
…and a shot at Sirius:
Every Sirius primetime ad is like watching a buddy who just got crushed in blackjack inexplicably start doubling his bets.
In the end, a defeated Simmons summed up the dismantling of his Pats by Drew Brees and the Saints:
Drew Brees was Pacquaio + the Pats D was Miguel Cotto. That was a shellacking. I am shellshocked. Congrats to the good people of N'awlins.
ESPN has long maintained it wants to embrace social media, but in ways that are beneficial to the network as a whole. There have been hints of that since the policy was leaked back in August. In this very glaring instance, ESPN capitalized on both the game on their network and the new media pull of one of their biggest stars, simultaneously. It's a recipe for success.
Now as long as The Sports Guy doesn't start blasting WEEI again…
This is how Simmons returned:


—–
» Follow Steve Krakauer on Twitter
Have a tip we should know? tips@mediaite.com