Black Panelists Beat Down Trump Supporter's Claim That He's 'On the Cutting Edge of Civil Rights'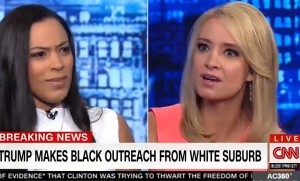 Anderson Cooper got together quite the panel to talk about Donald Trump's appeals to black voters this week.
Trump supporter Kayleigh McEnany was on hand to back up her candidate's claims that his presidency would be great for black people. She started off by telling Bakari Sellers, "You might think a 27.2% poverty rate among African American individuals … is a good thing but –"
"Kayleigh, when did you hear us say that?" interrupted an exasperated-sounding Angela Rye. "That's not fair. Kayleigh, can you retract that? Kayleigh? That's not fair."
McEnany kept trucking along, ignoring Rye's interjections of, "Kayleigh!" Instead, she claimed that Trump was positive in his appeals to voters of color and, in fact, "was on the cutting edge of civil rights" because he allowed black and Jewish people into his club in Florida. McEnany said he even brought a suit against other club owners who didn't allow minorities into their clubs, but Rye reminded her that happened after he was sued for housing discrimination.
It continued from there in about the same fashion, with Rye demanding that McEnany retract her statement that they had said they liked the poverty rate in the black community, then listing a number of things from Trump's past and his campaign that black voters would be likely to take umbrage with in spite of his recent appeals to them.
Watch above to see everyone start yelling statistics and reminding each other of various politicians' most racist moments before Cooper cut away to some breaking news. If this is any indication, the Trump campaign's recent attempt to woo black people isn't going very well.
[image via screengrab]
This is an opinion piece. The views expressed in this article are those of just the author.