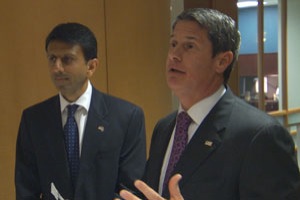 "Voters can make up their own minds." That's Louisiana governor Bobby Jindal's response to whether or not he will endorse fellow Republican Sen. David Vitter, who keeps mysteriously gaining in the polls despite having a well-documented affinity for prostitutes and hiring a "women's issues" associate accused of assault. Did Jindal throw Vitter under the bus, or is this common sense conservatism?
Jindal told Louisiana station WDSU that he wasn't comfortable planting a flag in federal races, though he has done so before. Meanwhile, the Democratic opposition has been hitting Vitter hard for his transgressions– there's the website SeriousSins.com, dedicated to the spiritual repercussions of his behavior, and ForgottenCrimes.com, dedicated to the lack of legal ones– though so far the attack has been in vain according to polls.
On the one hand, as the party leader in the state, Jindal's refusal to endorse will be taken as a clear indication that he does not approve, and the Democrats now have an opportunity to play up the intra-party division on top of the "Serious Sins" and "Forgotten Crimes" (needess to say, the Louisiana Senate race is one of the most entertaining and exciting ones from a media perspective based on the attack ads alone).
Though, really, for a politician like Jindal– the base of whose reputation is greatly founded on his wholesome, religious background– endorsing a an admitted (though remorseful) philanderer who is accused of employing domestic abusers to handle his women's outreach program would be political suicide (or at least political self-flagellation). It doesn't hurt that it's a hand-fed opportunity to prove that Gov. Jindal will deviate from the GOP when his values lead him away from it, a quality that is increasingly valuable in a world where the Tea Party is a viable political movement. And it's not like Vitter, with his double-digit lead against Democratic candidate Rep. Charlie Melancon, needs any help.
It will be interesting to see whether the Democrats use is in their advertising and public attacks in a full kitchen-sink approach to campaigning. So far, their focus on Vitter's scandals and relative quiet on policy points (Vitter supports offshore oil drilling, and has courted the birthers) has done them little help. And media-savvy pundit will tell you that, in this election cycle, personal scandal has only been successful in the context of race or ethnic group (think Ground Zero Mosque, not so much embezzlement or affairs). Everything else is the economy (stupid), and on that point, Vitter's platform is jobs, jobs, jobs.
[Photo via DavidVitter.com]
Have a tip we should know? tips@mediaite.com