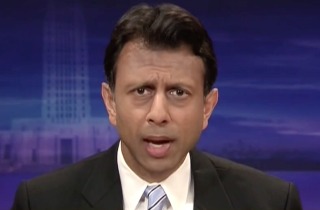 In preparation for a town hall-style event in Iowa, Bobby Jindal's campaign SuperPAC asked his Twitter followers to submit the questions they would like him to answer on Tuesday. What the Louisiana governor might not have expected was that the hashtag #AskBobby might be put to a different use than originally expected.
The idea was reportedly conceived by Jindal's social media team as for the 2016 candidate to engage with potential voters. The team might not have known that 2016 rival Mike Huckabee held a Q&A on Facebook the previous week, only to find his responses filled with joke questions from Internet trolls.
Within hours, #AskBobby was receiving thousands of responses, but most likely not of the sort that the social media team was looking for.
#AskBobby hey Bobby, are you part of Mike Huckabee snake oil production company? pic.twitter.com/bAOQxwyRYE

— TKDMike (@tkdmike) June 30, 2015
A two-for-one jab. Not bad.
Will your #Obamacare replacement plan cover exorcisms, @BobbyJindal? #AskBobby pic.twitter.com/ZbrU9AmGgE

— Memeographs (@memeographs) June 30, 2015
The good news is that if it doesn't, Jindal's previous experience has America covered.
When are widely disliked famous people going to learn how Twitter works?!? #AskBobby

— Katie Rogers (@katiearog) June 30, 2015
A question for many.
#AskBobby when you say you don't support immigrants do you include your parents ?

— SuperSaiyan 亀 (@CallmeKakarot) June 30, 2015
According to previous statements, Jindal's parents are okay because apparently they never tried to "undermine American freedoms".
Are you transracial? Nice tan, by the way. #AskBobby

— CKH (@CarynGotThis) June 30, 2015
Well, maybe Rachel Dolezal can give a few tips.
Which spice girl is your favorite and if you had a chance, what laws would you pass to oppress them for having a uterus? #AskBobby

— Zora Neale Thirstin (@CarefreeBlkGirl) June 30, 2015
Scary Spice might be the expected answer, but Jindal might go with the crowd and agree that Posh is tried and true.
Turned on the Twitter just in time for #AskBobby pic.twitter.com/mvxCGOkNoC

— Kelly Spell (@KellySpell) June 30, 2015
You and many others.
Lmao why are all of your self-portraits of a strange white man? #AskBobby @BobbyJindal pic.twitter.com/EP94kFh6Xp

— IGNORANT INTELLECT (@KW33NSOHI9H) June 30, 2015
It's okay because Jindal is Tanned. Rested. Ready.
What color is this dress #AskBobby pic.twitter.com/Ii0OrYwS2u

— shon (@hashtag_shon) June 30, 2015
Naturally.
Pecan waffles or blueberry? Or both? #AskBobby

— Will on a Shelf (@ReptarRoar) June 30, 2015
Chocolate chip is much better than either of them.
#AskBobby Will Raptor Jesus be victorious or will #Indominus Rex prevail? pic.twitter.com/KO4YoIHz08

— Teddy (@Hulku) June 30, 2015
Soon to be the subject of a strange film involving Jeff Goldblum, Chris Pratt, and Mel Gibson.
.@BobbyJindal Who on your team thought a Twitter Q&A wouldn't open your awful ideas to mockery, and when will you fire them? #AskBobby

— Phil Plait (@BadAstronomer) June 30, 2015
Again, that is just such a poignant question.
[Image via Screengrab]
— —
>> Follow Ken Meyer (@KenMeyer91) on Twitter
Have a tip we should know? tips@mediaite.com