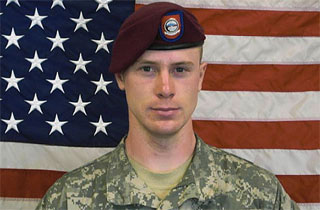 The Army is disputing reports by Fox News and NBC News Tuesday morning that Army Sergeant Bowe Bergdahl will be charged with desertion.
Lt. Col. Tony Shaffer first made the claim (one of his many claims) on The O'Reilly Factor Monday evening; NBC News Pentagon correspondent Jim Miklaszewski then cited "senior defense officials."
"According to one senior official," Miklaszewski reported, "Bergdahl's actions in Afghanistan go well beyond the lesser offense of AWOL, absent without leave, because he allegedly abandoned his post 'in the middle of a combat zone, potentially putting the lives of his fellows soldiers at risk.'"
But an Army spokesperson said Tuesday these claims "seem to be speculative in nature," adding that Forces Command is "actively reviewing the case," and that "no decision's been made."
Bergdahl was kidnapped by the Taliban after going missing from his Afghanistan base in 2009. He was released last year in exchange for five Taliban prisoners, in a swap that quickly became a political debacle for the White House.
Upon his return Bergdahl was reinstated to a desk job at Fort Sam Houston pending an investigation into his disappearance. (The army had already concluded that Bergdahl engaged in no misconduct, such as handing over intelligence, during his captivity.) The desertion charge carries the possibility of imprisonment, though Bergdahl's time as a Taliban prisoner will likely negate that; it could deny him the five years of back pay, however.
UPDATE — 5:25 p.m. ET: During a press conference Tuesday afternoon, Rear Admiral John Kirby confirmed that Sgt. Bergdahl "has not been charged with any crime."
Watch video below, via C-SPAN:
[h/t NBC News]
[Image via screengrab]
——
>> Follow Evan McMurry (@evanmcmurry) on Twitter
Have a tip we should know? tips@mediaite.com