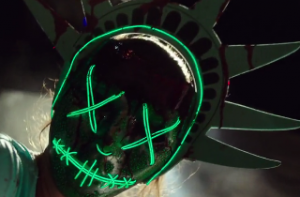 The Purge movies are set in a society that allows for an annual suspension of all laws. For 12 hours once a year, anyone can get away with anything. Murder, rape, and robbery are all totally fair game and the poor and disenfranchised are the most vulnerable. I've never seen any of these films, but it's my understanding that the ruling class that allows the bad behavior does so because it keeps the inhabitants of the lower rungs of the society in check.
Fox's Greg Gutfeld compared the fallout from Mike Brown's death in Ferguson to the Purge, but he wasn't the only one to attempt to draw parallels between current events and the premise of the successful box office franchise (or Star Trek, depending on who you ask). The producers themselves have now leapt at the opportunity to make a very on-trend installment in the series. This one has even more of a pointed social commentary than its predecessors, if possible.
The Purge: Election Year is set to hit theaters on July 1, two weeks ahead of the nominating conventions for the Democratic and Republican parties. The first ad aired during the Republican debate last week, according to Dateline, and a slightly different cut was reissued on Twitter today to coincide with Super Tuesday.
This July 4th weekend #KeepAmericaGreat. #ThePurge #SuperTuesdayhttps://t.co/bFd9cB4rFB

— #ThePurge (@UniversalHorror) March 1, 2016
Truth be told, the advertising this time around is pretty good. Uplifting string music plays in the background as a diverse group of people tells the camera, "I purged!" Get it? It's like a campaign ad!
Of course, the real zinger comes when the oldest, whitest guy in the commercial says, "I purged to keep my country great."
What message could they possibly be trying to send?
As a bonus, here is a much longer ad that hints at a plot:
The annual Purge begins July 1. Watch the trailer for The Purge: Election Year. #ThePurgehttps://t.co/Wc1AERjfz3

— #ThePurge (@UniversalHorror) February 10, 2016
This really is the craziest election season ever.
[image via screengrab]
For more from Lindsey, follow her on Twitter.
Have a tip we should know? tips@mediaite.com