Brad Pitt Still Supports Barack Obama… Even If Angelina Is 'Disappointed' In 'A Few Things'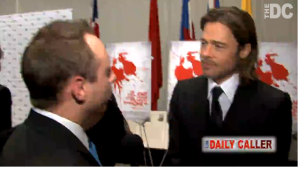 While at DC's Holocaust Memorial Museum to support Angelina Jolie's directorial debut, actor Brad Pitt shared that, unlike his partner, he isn't "disappointed" with how things have gone under Barack Obama.
At the premiere of In The Land of Blood and Honey, Jolie told Daily Caller senior video reporter Nicholas Ballasy that she is "disappointed" in "a few things."
When asked about a 2009 interview where she expressed doubt that Obama would be elected to another four years in the White House — an interview Jolie appears to discredit by asking the reporter whether he read it in Us Weekly — Jolie responded that there are "many, many things I think have gone in a wonderful direction, and there are a few things I am disappointed in. And I don't feel like tonight is the night to clarify, but there are many wonderful things that have moved forward and of course some other things that are very frustrating."
And, as it turns out, there is indeed a report on Us Weekly's website titled "Exclusive: Angelina Jolie Not a Fan of Obama," from November of 2009. It quotes an anonymous source "close" to Jolie who says she "hates" Obama and "thinks Obama is really a socialist in disguise." It doesn't, however, include anything about Jolie's thoughts regarding a second term for Obama, at least not in the online version.
Pitt, meanwhile, told the site that he remains a fan of Obama. "Yes," he responded, when asked about this "2009 report" and his support for the President, "I have been and remain so."
RELATED: Campaign Secrets: Mitt Romney Peels The Cheese Off His Pizza, Rick Perry Prefers Jen Aniston To Angelina Jolie
The actor declined to share which issues he and the President agree on. Have a look, courtesy of The Daily Caller:
h/t The Daily Caller
Have a tip we should know? tips@mediaite.com