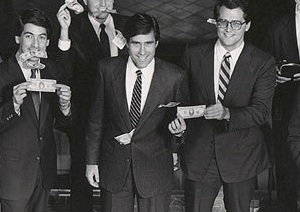 Following wins in the first two Republican primary contests, the Romney campaign announced some more good news Wednesday. Former Massachusetts Gov. Mitt Romney raised $24 million in the fourth quarter of 2011, finishing with a $56 million total for the year. That's a big improvement over Q3, when his $14 million haul was eclipsed by Texas Gov. Rick Perry's $17 million take. The bad news: the Obama campaign is expected to release a Q4 total north of $60 million.
Romey's take will solidify his case that he's the best candidate to take on President Obama, and also figures to attract even more donors. It's like in high school, where people often end up partying, not with the coolest kid, but with the kid whose parents have the biggest liquor cabinet.
Rick Perry's campaign hasn't released their Q4 figures yet, but it's a safe bet he won't get anywhere near Romney's total, or even fellow Texan Rep. Ron Paul, who turned in an impressive $13 million take. According to former House Speaker Newt Gingrich, his campaign is expected to report fourth quarter donations of "almost $10 million."
The Obama campaign, meanwhile, is likely to continue its fundraising dominance, which has so far outpaced all  of the Republican challengers' totals combined. Before you go all David and Goliath, though, keep in mind that the President won't just be up against the eventual Republican nominee's campaign, but will be deluged by the kind of negative ad SuperPAC dollars that took such a heavy toll on Newt Gingrich.
Behind Romney's numbers, though, there's reason for concern. Romney's campaign also reported $19 million cash on hand, which means they've spent about $37 million so far. For that price, Mitt Romney eked out an eight-vote margin in Iowa over Rick Santorum, who spent about $20 per vote to Romney's $160 or so. He also won New Hampshire convincingly, but in a state where he maintains a residence, and whose neighbor Romney was Governor of, challengers Ron Paul and Jon Huntsman surged to strong finishes. If he manages to fend off a surging Rick Santorum in South Carolina, Romney could put the whole thing away, but a close finish by Santorum, and a sustained offensive by Ron Paul, could still make this a long primary for Romney.
Here's the full text of the Romney campaign's announcement:(via email)
ROMNEY RAISES $24 MILLION IN THE FOURTH QUARTER

$56 Million Total Raised In 2011, $19 Million Cash On Hand

Boston, MA – Today, Romney for President announced it has raised more than $56 million so far in the primary. The campaign will report raising $24 million for the fourth quarter. This total represents only primary contributions as the campaign did not raise general election funds. The campaign has over $19 million cash on hand. Mitt Romney did not make a personal loan or contribution.

Romney for President National Finance Chairman Spencer Zwick said, "Mitt Romney's growing financial support is representative of the growing momentum for our campaign. In order to defeat President Obama in November, we will need this continued strong showing of support. Mitt Romney, the campaign, and his supporters will continue the hard work of reaching out to supporters and spreading Mitt Romney's pro-growth message to get our country on the right track again."

FAST FACTS About Romney For President's Fourth Quarter Fundraising:

· Total Amount Raised In Primary Contributions For The Year: $56 Million

· Amount Raised In Primary Contributions In The Fourth Quarter: $24 Million

· Amount Raised In Primary Contributions In The Third Quarter: $14 Million

· Amount Raised In Primary Contributions In The Second Quarter: $18 Million
· Cash On Hand: $19 Million

· Contributions Received From All 50 States And Washington, D.C.

· No General Election Money Collected

· Mitt Romney Did Not Make A Personal Loan Or Contribution
Have a tip we should know? tips@mediaite.com