Breaking: Bill O'Reilly To Sit Down With Barack Obama In Pre-Super Bowl Interview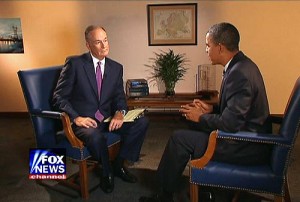 Sources tell Mediaite that Bill O'Reilly has landed an exclusive pre-game interview with President Barack Obama scheduled to air on the Fox Broadcasting Channel before the Super Bowl. This will mark only the second time that Obama has sat down with Fox News — his first was last year with Bret Baier. But its the first time that Obama will participate with Mr O'Reilly as a sitting president (though O'Reilly did interview Obama in the later stages of his presidential candidacy.)
The history between Fox News and the Obama Administration has, at best, been fraught with tension in the first two years. Most notably starting in the Fall of 2009 when White House official Anita Dunn attacked Fox News by saying that they were "not a real news organization".
Many will see this as a very smart move for the President; this writer even suggested that the smartest thing Obama could do (at least from a publicity perspective) was go on "The Factor." Why? Well as we wrote at the time, of all the "big-time" personalities on FNC, O'Reilly is arguably the most moderate. A proud, self-described "independent," O'Reilly was the least antagonistic towards Obama during the presidential campaign, which Obama rewarded when he agreed to sit down for a much ballyhooed interview — an event that not only got great ratings, but appeared to help Obama in the polls.
Yes O'Reilly has been a fairly vocal critic of this administration, but his critiques have been relatively tepid, which has been evident throughout the first two years of Obama's current term. Even MSNBC's Joe Scarborough has noted via Twitter after an Obama speech, "Bill O'Reilly is sounding somewhat supportive of the President's insurance reforms right now. Opposes the plan but likes some parts."
With today's naming of pro-business, former Commerce Secretary William Daley as his Chief of Staff, and the news that he will sit down with the wildly influential and self-described "traditionalist" Bill O'Reilly, some on the "professional left" may see this as a stark departure from what they'd like to see as Obama's progressive ways. Or perhaps Obama is only revealing that he is actually more of a moderate at heart, more interested in finding things that work than pride of ideology or ownership.
Have a tip we should know? tips@mediaite.com
Colby Hall - Founding Editor