Breitbart Allegedly Chastised Reporter After She Was Manhandled by Trump Staffer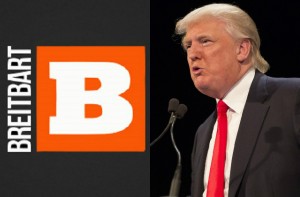 According to a report from The Daily Beast, after Breitbart reporter Michelle Fields was physically manhandled by Donald Trump campaign manager Corey Lewandowski, Breitbart PR made an angry phone call… to Fields.
Reporters present at Trump's late-night victory speech Wednesday claim that Fields was grabbed from behind and dragged nearly to the ground by Lewandowski. Thursday morning, Breitbart published Fields' own account of the confrontation for the first time.
When he approached me, I asked him about his view on an aspect of affirmative action. Trump acknowledged the question, but before he could answer I was jolted backwards. Someone had grabbed me tightly by the arm and yanked me down. I almost fell to the ground, but was able to maintain my balance. Nonetheless, I was shaken.

The Washington Post's Ben Terris immediately remarked that it was Trump's campaign manager, Corey Lewandowski, who aggressively tried to pull me to the ground. I quickly turned around and saw Lewandowski and Trump exiting the building together. No apology. No explanation for why he did this.
The Daily Beast reports that a bruised Fields then called her boyfriend Jamie Weinstein. The Daily Caller columnist shot off an angry tweet that got the entire controversy started.
Trump always surrounds himself w thugs. Tonight thug Corey Lewandowski tried to pull my gf @MichelleFields to ground when she asked tough q

— Jamie Weinstein (@Jamie_Weinstein) March 9, 2016
But according to the Daily Beast, Breitbart PR man Kurt Bardella responded by calling Fields to complain about Weinstein's tweets.
Fields soon received an aggrieved phone call from Bardella, telling her that Weinstein's tweets were "juvenile," and "immature," according to sources, and advising her "to get your boyfriend under control." Ultimately Bardella drafted the [Breitbart] statement, and Fields asked Weinstein to stop tweeting.
In a statement to Mediaite, Breitbart trashed the entire premise of the Beast article, which claims the conservative website "rolled over" for Trump. When asked in particular about the accusation that he complained about Weinstein's tweet to Fields, Bardella responded simply: "I could give two shits about what Jaime Weinstein does or tweets or says."
"The piece as a whole is nothing but anonymous, nameless 'sources' who apparently believe so strongly in their words they are unwilling to actually put their names next to their statements," he said. "Their courage is applauded for speaking out so bravely."
[Image via screengrab/Shutterstock]
——
>>Follow Alex Griswold (@HashtagGriswold) on Twitter
Have a tip we should know? tips@mediaite.com