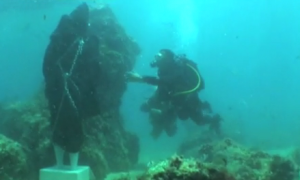 So you're trying to get viewers to know about the launch of Fox Crime, a Spanish channel dedicated to series like Dexter and Law and Order. What's a memorable way you can get the name to stick in people's heads? Well, if you're the ad agency, Bungalow 25, the answer is simple; you dress up a mannequin to look like a dead body, sink it in a popular scuba diving location, and let it scare the ever living crap out of some divers.


Not only that, they filmed it all. From Advertising Age:
"Bungalow 25, the Madrid-based independent agency that masterminded the "Crimes of Summer" scare campaign also planted a camera underwater to record the reactions of horrified scuba divers who thought they had stumbled across a murder victim. The video was sent to bloggers to spread virally and posted on YouTube. Seen up close, it's clear the mannequin's feet are cemented into a box that says 'New channel. Fox Crime. Discover It.'
'This isn't just a simple ambient idea,' said Julio Gálvez, executive creative director and one of three founding partners at seven-year-old Bungalow 25. "We aimed to find a new advertising channel. Their reactions were spectacular. The whole situation became so realistic that more than once we had to dissuade people from calling the police.'"
Yeah, that would have definitely been hard for me to forget. So hard that I'm purposefully making sure no TV channels are premiering any time near my next vacation. I mean, can you imagine if they had handled the launch of Fox Business. I can picture it now; a bunch of New Yorkers surprised one morning to see a bunch of dummies dressed up like suicidal stock brokers flying out of Wall Street windows.
Still, though, it's a pretty hilarious idea. It's just a good thing that none of those divers had heart problems. Check out the video of some of the reactions below and read more about the stunt here.
Have a tip we should know? tips@mediaite.com