Bringing Coattails Back: President Obama Stars In New Elizabeth Warren For Senate Ad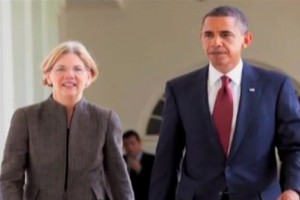 While many Democrats stood back, or even ran away, from President Obama during the 2010 midterm elections (how'd that work out for ya?), a new ad from Elizabeth Warren's (D-MA) US Senate campaign signals a return of the President's political mojo. The ad, entitled "Rose Garden," features President Obama's Rose Garden announcement of the formation of the Consumer Financial Protection Bureau, and demonstrates that Warren, at least, thinks the President can help tip the balance in her tight, seesaw race with Sen. Scott Brown (R-MA).
The commercial hits all the right populist notes for this year's 99 percentric election. "Elizabeth Warren," the President says in the ad. "She's a janitor's daughter who has become one of the country's fiercest advocates for the middle class. She came up with an idea for a new independent agency that would have one simple overriding mission: standing up for consumers and middle class families."
The ad concludes with Warren saying "The big banks tried to stop us but that new agency is already working to cut the fine print and hold those banks accountable. We can take on the big guys and win. I'm Elizabeth Warren."
Elizabeth Warren has become a national figure and a heroine among liberals and progressives by virtue of her involvement in the CFPB, and for her viral video repudiation of the "class warfare" argument that rich people use to dupe people into cutting their taxes, but the race for the former Ted Kennedy seat (lost in a special election by a bumbling Martha Coakley campaign) has been incredibly close. Warren is up against a well-funded opponent, and even more well-funded outside spending groups.
Here's the ad, from Elizabeth Warren For Massachusetts:
Have a tip we should know? tips@mediaite.com