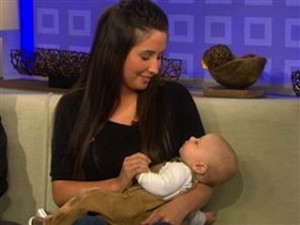 When Bristol Palin was named the "teen ambassador" for the abstinence-pushing Candie's Foundation, she said she'd be a perfect "living example" to teenagers considering having sex. As tax documents have now proven, she was completely right. Teenagers everywhere can learn from Palin that, if you get pregnant, merely become a "teen ambassador so that you can make $262,000 and figure out your baby's college tuition just like that!
Yeah, it looks like a person can get paid quite a bit for a little "Do as I say, not as I do" preaching.
From the Associated Press:
"Tax documents show unwed mother Bristol Palin earned more than $262,000 for her role in helping raise awareness for teen pregnancy prevention in 2009.

The most recent data for The Candie's Foundation that's posted online by research firm GuideStar shows compensation at $262,500 for the now-20-year-old daughter of former Alaska Gov. Sarah Palin, the 2008 Republican vice presidential nominee."
The figure was first discovered and reported on by Palingates, the self-proclaimed "Sarah Palin Watchdog Team," which points out that Candie's, the clothing company that runs the foundation, is slightly less concerned about teen abstinence when they're selling their clothes. The Palingates writers also seem to think the amount Palin is collecting is a little overly high which is clearly ridiculous. Sure, it's a lot of money, but it's nothing when you consider what Bristol had to do to get it. Seriously, most people would need a cool million before appearing in a skit this creepy and poorly written with The Situation.
Check out Bristol's past appearance on The Today Show discussing her advocacy group below:
Have a tip we should know? tips@mediaite.com