British PM Denies Putting Privates in Dead Pig's Mouth During Oxford Ceremony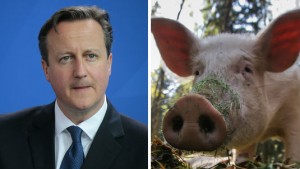 British Prime Minister David Cameron may have had his way with a dead pig during his time at Oxford University.
According to Lord Michael Ashcroft and journalist Isabel Oakeshott, who together co-authored Call Me Dave: The Unauthorized Biography, the act in question occurred during an initiation ceremony for the Piers Gaveston Society, a notorious all-male dining club named after the reputed lover of King Edward II. Stories about the dining society often include gratuitous drug use and sex.
Ashcroft and Oakeshott write in the Daily Mail that a fellow British politician, otherwise known as an MP, admitted in June 2014 to viewing a photograph of Cameron in action:
A distinguished Oxford contemporary claims Cameron once took part in an outrageous initiation ceremony at a Piers Gaveston event, involving a dead pig. His extraordinary suggestion is that the future PM inserted a private part of his anatomy into the animal's mouth.
The alleged owner of the photograph did not responded to the authors' repeated inquiries. However, the MP who claims to have seen it gave them further details of what he saw:
Some months later, he repeated it a third time, providing a little more detail. The pig's head, he claimed, had been resting on the lap of a Piers Gaveston society member while Cameron performed the act.
Whether or not this actually happened remains to be seen, especially since it's coming from an anonymous source whose words were printed by a British tabloid newspaper. Yet as Death and Taxes notes, the relationship between British press and politics is much more perilous than their American counterparts — primarily due to the country's libel laws. That is, it's much easier to accuse media outlets of slander (and to silence them) in the UK.
There's also the matter of how strikingly similar Cameron's putting "a private part of his anatomy into the animal's mouth" is to the premiere Black Mirror episode, "The National Anthem." Created by media critic and satirist Charlie Brooker, the show presents fictionalized scenarios that lampoon contemporary society's dependence on technology, and the first episode features the British PM having sex with a pig on live television in order to save a member of the royal family. As long as it's live and the views keep coming in, the hostage will stay alive.
Needless to say, Brooker eventually caught wind of the story:
Shit. Turns out Black Mirror is a documentary series.

— Charlie Brooker (@charltonbrooker) September 20, 2015
Just to clear it up: nope, I'd never heard anything about Cameron and a pig when coming up with that story. So this weirds me out.

— Charlie Brooker (@charltonbrooker) September 20, 2015
He even reread the original script for "National Anthem" and tweeted out relevant excerpts:
Just been nosing through old Black Mirror files now, of course. pic.twitter.com/6Xhuhby0Gj

— Charlie Brooker (@charltonbrooker) September 20, 2015
Perhaps the least prescient line from the script. pic.twitter.com/xrXZ3tsaW3

— Charlie Brooker (@charltonbrooker) September 20, 2015
[h/t Death and Taxes]
[Image via Shutterstock.com]
— —
>> Follow Andrew Husband (@AndrewHusband) on Twitter
Have a tip we should know? tips@mediaite.com