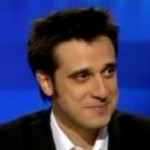 British singer/songwriter Billy Bragg is no newcomer to political activism. But the guy who published a record called Talking with the Taxman About Poetry thinks now is the time to talk with the Chancellor of the Exchequer about money.
In an op-ed published yesterday on the Guardian, the musician defends his controversial announcement of not paying his taxes until the government uses its powers to curb the bonus payments by the Royal Bank of Scotland. The institution, 84% owned by the British government after bailouts, plans to pay £1.5 billion in rewards to investment bankers.
Replying to those who have called him "an anarchist," Bragg writes:
Googling RBS, I found that, as part of the loan they took from the government, the chancellor has the right to veto the bank's bonus payments. That loan made us all shareholders in RBS. By rights, that veto belongs to us. So I wrote to Alistair Darling telling him that I would be withholding my taxes on 31 January unless he used our veto to limit the RBS bonuses.

What if everybody did this? Perhaps some form of anarchy would ensue. But if we are going to bring "what ifs" into the debate, then what if we lived in a society that heaped financial rewards on teachers and nurses and soldiers rather than bankers? What if we had a financial system that encouraged fairness rather than greed? Too utopian for you? Well how about this: what if we had a political party capable of winning power at the next election?
Bragg also started a Facebook group for his campaign, which as of this writing had surpassed 10,000 members.
How is that for a political commitment, Bono?

(Screenshot of Bragg's op-ed below)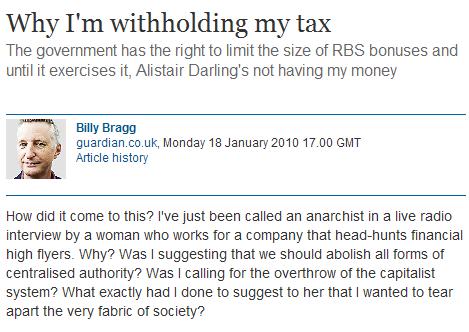 Have a tip we should know? tips@mediaite.com