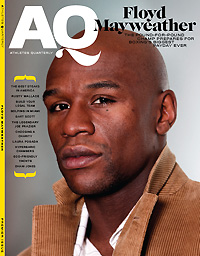 Brand-new magazine Athletes Quarterly was just shipped out to the homes of 20,000 American pro athletes. EIC and former Conde Nast, Details and Maxim editor, Michael Dolan, says the magazine is geared towards the current and former professional athlete making around $2 million a year (the cutoff for a subscription is $300,000) and addresses issues relevant to their specific culture – buying multi-million dollar homes, choosing a bodyguard, helping your lawyer help you, etc. – and that the magazine is already profitable thanks to its high-end advertisers like private jet company Marquis Jets (and the mag's anonymous backer).
By limiting their distribution to high net worth individuals in the pro sports world, Athletes Quarterly plans on keeping these secrets of the rich and sweaty exclusive to its community – that's to say you won't be filling out a subscription insert any time soon. Home delivery to athletes, team presidents, CEOs and coaches makes up 63% of AQ's audience, with sports agencies and marketing firms, the main offices of pro teams, high-profile sports fundraiser gift bags and private jet in-flight placement filling in the rest. Their media kit provided the following insights on AQ's niche market:
"As an athlete, you need to be careful about where you go. You can only really go to the most high-end places because you know you'll be treated well. And so you keep going back and giving them your business." –Jonathan Vilma, New Orleans Saints
And of course, avoiding the modern inconveniences of air travel:
"All you need to do is fly private once and you'll never step foot on a commercial airplane for the rest of your life." – David Diehl, New York Giants
With these life lessons in mind, Athletes Quarterly should live up to its mission of serving as "the most authentic community for professional athletes of all sports." Keep in mind, however, that former NY Mets outfielder Lenny Dykstra started a similar magazine for pro athletes in 2008 called The Players Club, striking out after just 9 months, and, as reported by the New York Post, leaving a trail of unpaid bills right to the showers.
Have a tip we should know? tips@mediaite.com