Brutal Civil War Looms For Democrats If Hillary Clinton Does Not Run In 2016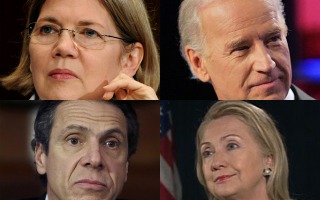 While pundits and reporters are intrigued by the Republican Party's "invisible primary," already well underway as key members of the GOP test the waters and amass a list of connected supporters ahead of a potential 2016 bid, little effort has been made by journalists to delve into what a post-Barack Obama future will look like for the Democratic Party. On Thursday, Public Policy Polling confirmed in a survey what common sense suggests – that the Democratic Party is set to experience a brutal civil war and an identity crisis if Hillary Clinton bails out of the 2016 race.

RELATED: NY Times Buries The Lede: Anderson Cooper's Ratings Surge At 8PM
57 percent of registered Democrats would support Hillary Clinton if she ran for president in 2016, PPP found in its survey of 400 Democratic primary voters conducted from January 3 to 6. That is where consensus among Democrats ends.
Without Clinton in the race, Vice President Joe Biden is next in line to represent the party as their next presidential nominee. However, Biden's support among Democrats caps out at 16 percent in spite of his 73/22 percent favorability/unfavorability rating and near universal name recognition.
Furthermore, Biden's total favorability/unfavorability across all voters stands at 48/43 with 9 percent "not sure." Given the electorate's familiarity with the Vice President of the United States and Biden's his high name recognition, opinions about the vice president are likely hardened. There is more room for Biden's popularity to fall than increase among the general electorate
If Clinton and Biden were to sit out the race, PPP found that there is no consensus among Democrats as to who should lead the party. New York Gov. Andrew Cuomo is statistically tied with Massachusetts Sen. Elizabeth Warren at 19 and 16 percent support respectively. Both, however, claim support from distinct subsets of the Democratic Party's coalition. Warren's devoted supporters claim the party's progressive wing as their home, while Cuomo draws support from the party's socially liberal but fiscally conservative moderates. It is unlikely that there is much crossover support between the two among Democratic primary voters.
The rest of the field languishes in the single digits; Maryland Gov. Martin O'Malley secures 7 percent support, Massachusetts Gov. Deval Patrick has 6 percent and New York Sen. Kirsten Gillibrand claims 5 percent. Virginia Sen. Mark Warner and Montana Gov. Brian Schweitzer claim less than 5 percent support among Democratic primary voters.
The big winner in PPP's survey of Democratic primary voters in the Biden/Clinton-free scenario? "Undecided," at 60 percent.
It is early in the 2016 cycle, and only Cuomo enjoys more than 50 percent name recognition among potential candidates not currently serving in the Obama administration, but the outlines of a bruising primary fight are clearly visible if Clinton chooses not to pursue a presidential bid.
> >Follow Noah Rothman (@Noah_C_Rothman) on Twitter
Have a tip we should know? tips@mediaite.com