Bryce Williams' Manifesto: 'What Sent Me Over the Top Was the Church Shooting'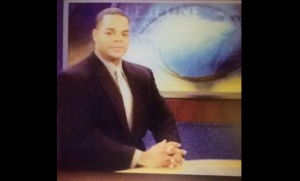 Among the many pieces of alleged evidence in this morning's tragic shooting death of WDBJ reporter Alison Parker and cameraman Adam Ward is a 23-page manifesto faxed to ABC News by suspect Bryce Williams, real name Vester Flanagan.
According to ABC News, a person claiming to be Flanagan repeatedly called them during the past few weeks. His reason? He had a story to pitch, and he wanted to fax them some pertinent documents for the piece.
That fax finally arrived at 8:26 a.m. EST on Wednesday morning, nearly two hours after Parker and Ward had been shot during their live broadcast in Roanoke, Virginia. Soon after, a man claiming to be Flanagan called ABC News:
[He] introduced himself as Bryce, but also said his legal name was Vester Lee Flanagan, and that he shot two people this morning. While on the phone, he said authorities are "after me," and "all over the place." He hung up. ABC News contacted the authorities immediately and provided them with the fax.
According to the 23-page document faxed to ABC News, Flanagan claimed responsibility for the act and attributed its inspiration to the racially-motivated shooting death of nine African-Americans in a Charleston, South Carolina church.
"Why did I do it? I put down a deposit for a gun on 6/19/15. The Church shooting in Charleston happened on 6/17/15…"

"What sent me over the top was the church shooting. And my hollow point bullets have the victims' initials on them."
Flanagan addressed Charleston shooter Dylann Roof:
"As for Dylann Roof? You (deleted)! You want a race war (deleted)? BRING IT THEN YOU WHITE …(deleted)!!!"
He also made several comparative references to the Virginia Tech and Columbine massacres:
"Also, I was influenced by Seung-Hui Cho. That's my boy right there. He got NEARLY double the amount that Eric Harris and Dylann Klebold got…just sayin'."
Finally, Flanagan discusses his own personal motivations for carrying out the attack, which vary from supposed racial discrimination at work, to other forms of discrimination due to his being a gay, black man:
"Yes, it will sound like I am angry…I am. And I have every right to be. But when I leave this Earth, the only emotion I want to feel is peace…."

"The church shooting was the tipping point…but my anger has been building steadily…I've been a human powder keg for a while…just waiting to go BOOM!!!!"
The validity of the document, which is currently being processed by the authorities, remains to be seen. Yet early indications suggest that it was in fact from Flanagan, the suspect responsible for the deaths of Parker and Ward.
[h/t ABC News]
[Image via screengrab]
— —
>> Follow Andrew Husband (@AndrewHusband) on Twitter
Have a tip we should know? tips@mediaite.com