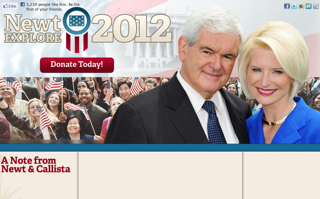 Former Speaker of the House Newt Gingrich has not even officially declared his 2012 candidate yet (though calling what he's doing a "campaign" seems to hinge on formalities about as much as calling what the U.S. military is doing in Iraq a "war") and already the internet is playing tricks on him. While his current website, NewtExplore2012.com, remains untouched, those who aren't good at remembering URLs may find themselves at the campaign site of former Louisiana governor Buddy Roemer.
It's the sort of prank Richard Nixon would have been proud of: while Gingrich's original website remains untouched, the much more indecent-sounding ExploreNewt2012.com brings the viewer to nothing remotely having to do with Gingrich or his campaign– it redirects to BuddyRoemer.com, the website of the former governor's exploratory committee. Yes, for the uninitiated, Buddy Roemer is planning a run for the presidency, perhaps to lure in that coveted demographic of people who think Herman Cain might have too big a chance of winning the whole thing. CNN reports:
Visitors to NewtExplore2012.com will see the new site launched by former House Speaker Newt Gingrich as he unofficially tests the presidential campaign waters. Visitors to ExploreNewt2012.com, however, will be redirected to buddyroemer.com, the exploratory website set up by former Louisiana Gov. Buddy Roemer, who announced on Thursday that he has formed an official presidential exploratory committee.

At an event just hours before Roemer's announcement, Gingrich explained his intention to begin an "exploratory phase" as he weighs a presidential bid. But in case the former congressman does decide to officially get in the race, and drop "explore" from his website's name, he's already off to a slow start in the domain game. Someone snapped up NewtGingrich2012.com, for example, in 2007.
Roemer, meanwhile, is wisely refusing to accept credit for the comical masterstroke, though he should probably cough up to the fact that no one would have any idea he is considering running for president if someone hadn't redirected a fake Gingrich site to his.
Have a tip we should know? tips@mediaite.com