Buzzkill High School Commencement Speaker Tells Students 'You Are Not Special'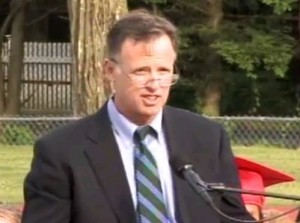 If you've ever sat through a high school graduation ceremony, you know the speeches are all basically generic words about being inspired mixed in with a few assorted quotes from JFK, Martin Luther King Jr., Gandhi, and anyone else that pops up when you Google "inspirational speakers." Well, someone managed to make a high school commencement address interesting, and the internet is going nuts over it. A teacher at Wellesley High School in Massachusetts dragged the students down to reality by telling them they're not special and they shouldn't go into the real world thinking they are.
RELATED: Rep. Barney Frank's Provocative Trayvon Martin Joke Shocks Commencement Audience
English teacher David McCullough, Jr., who sounds like he has a serious bone to pick with Barney the Dinosaur (and who happens to be the son of author/historian David McCullough of 1776 fame), looked out on the great sea of faces and told the students that all of them look exactly the same and all of their diplomas say basically the same things. He explained, "All of this is as it should be, because none of you is special."
According to the Washington Post, he did his best to tell the students that all the coddling and praise they've gotten used to will not last.
You see, if everyone is special, then no one is. If everyone gets a trophy, trophies become meaningless. In our unspoken but not so subtle Darwinian competition with one another — which springs, I think, from our fear of our own insignificance, a subset of our dread of mortality — we have of late, we Americans, to our detriment, come to love accolades more than genuine achievement. We have come to see them as the point — and we're happy to compromise standards, or ignore reality, if we suspect that's the quickest way, or only way, to have something to put on the mantelpiece, something to pose with, crow about, something with which to leverage ourselves into a better spot on the social totem pole. No longer is it how you play the game, no longer is it even whether you win or lose, or learn or grow, or enjoy yourself doing it… Now it's "So what does this get me?"
Towards the end of his speech, he even goes on a little rant about the commonly-used teen phrase "YOLO." As in, "You Only Live Once." McCullough told the students, "you can and should live not merely once, but every day of your life."
Watch the full commencement address below:
h/t WaPo
Follow Josh Feldman on Twitter: @feldmaniac
Have a tip we should know? tips@mediaite.com
Josh Feldman - Senior Editor