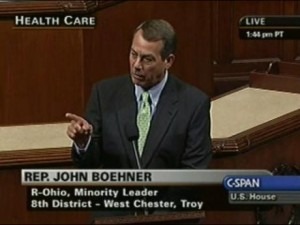 Part of the Republican surge this year stemmed from the GOP's censure of President Obama—who once promised to make his administration to be the "most open and transparent in history"—for not being open and transparent enough, particularly regarding healthcare reform. As such, C-SPAN's current proposal to presumptive House Speaker John Boehner should be an offer Republicans can't refuse: an increase in the number and scope of press cameras in the House chamber.
C-SPAN hand-delivered a letter to Rep. Boehner, asking for permission to install additional cameras that would capture "reaction shots" from House members and a wider view of the chamber. As it is, C-SPAN is only equipped and permitted to capture head-on shots of floor speakers and committee tables. If C-SPAN's request isn't granted, the network argues, its seven viewers are left with "a less-than-complete view of [House] debates."
So what do the congressional voyeurs at C-SPAN want to do with all of this exciting footage of representatives falling asleep, updating their Twitters, and being absent? The network looks to expand House coverage on its own networks. "We'll also make this feed readily available to accredited news media following establish Hill pool practices," C-SPAN wrote in the letter.
The network also cited a letter that Boehner himself once sent to C-SPAN, in which he supported the network's request to televise healthcare negotiations. In that letter, he stated his own belief that "every issue of national import should be debated by the people's elected representatives in full public view." Boehner has yet to respond to the most recent letter from his newfound pen pal, which was delivered last Tuesday. And considering that similar requests from C-SPAN to former Speaker Newt Gingirch and current Speaker Nancy Pelosi have not been approved, history suggests that Boehner's House will be as transparent as the ones before it.
Have a tip we should know? tips@mediaite.com