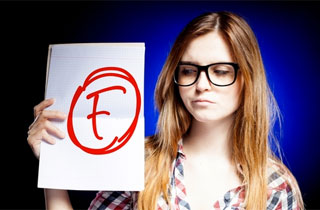 A genius teacher at Rialto Unified School District in California decided to assign his eighth graders a fun topic to teach them the finer points of argumentative writing and historical research: discuss whether or not they believed the Holocaust "was an actual event in history, or merely a political scheme created to influence public emotion and gain wealth."
To help his students, the unnamed teacher handed out an 18-page attachment with three sources, one of which was cribbed directly from a website called BibleBelievers.org, featuring the writings of one Mark Weber — a man so committed to denying the Holocaust, he actually founded an organization devoted to the cause. KTLA.com got their hands on the assignment, and discovered that some of the quotes from Weber accuse Israel of manufacturing the Holocaust for its own political gain:"With all this money at stake for Israel, it is easy to comprehend why this Holocaust hoax is so secretly guarded…In whatever way you can, please help shatter this profitable myth. It is time we stop sacrificing America's welfare for the sake of Israel and spend our hard-earned dollars on Americans."
The other sources: About.com and History.com. (Yep.)
Needless to say, this didn't really fit into the point of the class, called "Argumentative Research," the point of which is to, well, research. Parents and advocates soon flooded the district with complaints, and one thirtysomething-year-old man even went so far as to issue death threats. Thankfully, the Anti-Defamation League took a critical look at the assignment and concluded in a blog post that this teacher wasn't an anti-Semite, just an idiot:
"ADL does not have any evidence that the assignment was given as part of a larger, insidious, agenda," the blog post read. "Rather, the district seems to have given the assignment with an intent, although misguided, to meet Common Core standards relating to critical learning skills."
The district itself has since apologized changed the assignment, calling it a "mistake" that would not be repeated.
[KTLA.com]
[Image via Shutterstock]
—
>> Follow Tina Nguyen (@Tina_Nguyen) on Twitter
Have a tip we should know? tips@mediaite.com