Cambridge Analytica Reached Out to Assange About Clinton Emails While Working For Trump Campaign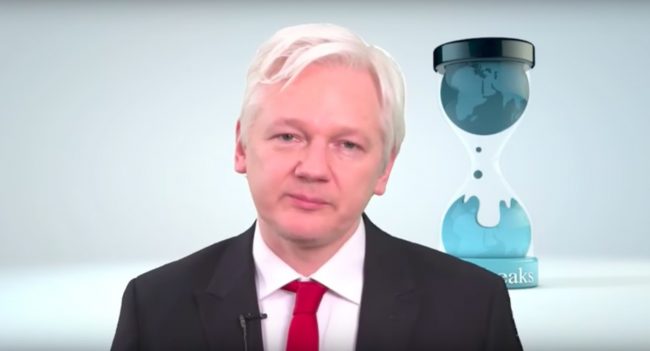 Last month, it was reported that the head of a data firm that worked for the Trump campaign — Cambridge Analytics — had reached out to WikiLeaks founder Julian Assange to see if his firm could assist Assange with releasing former Democratic presidential nominee Hillary Clinton's missing emails. Assange confirmed at that time that the exchange with firm CEO Alexander Nix did take place.
The Wall Street Journal reported today that Nix has since said that he attempted to get the WikiLeaks founder to share Clinton-related emails with his firm in "early June 2016." What makes this especially noteworthy is that Cambridge Analytica already had employees working for the Trump campaign at this point, showing a connection between WikiLeaks and the campaign:
New details about the timing of Cambridge Analytica's Trump campaign work show that the firm's effort to obtain the Clinton emails—which U.S. intelligence agencies later determined had been stolen by Russian intelligence and given to the Sweden-based WikiLeaks—came as the company was in the advanced stages of contract negotiations with the campaign and had already dispatched employees to help it.

Mr. Nix first pitched Mr. Trump's advisers on working with Cambridge Analytica in mid-May, after Steve Bannon —who went on to become White House chief strategist—introduced them, according to people familiar with the matter. In the first week of June, the company dispatched a small team to San Antonio, where Mr. Trump's digital operation was based, according to people familiar with the company's hiring.
While the company did not respond to the WSJ for a request for comment, Nix said at a web summit on Thursday that the firm "did not work with Russia in this election, and moreover we would never work with a third-party state actor in another country's campaign."
Assange announced in June 2016 that he had emails related to the Clinton campaign that were ready for publication. The following month, WikiLeaks started releasing emails from Clinton campaign chair John Podesta and the Democratic National Committee.
In July 2016, then-candidate Donald Trump famously called on Russia to "find the 30,000 emails that are missing." This was followed by Trump repeatedly mentioning his "love" for WikiLeaks towards the end of the campaign.
[image via screengrab]
—
Follow Justin Baragona on Twitter: @justinbaragona
Have a tip we should know? [email protected]