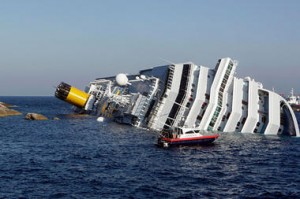 A horrifying shipwreck at sea off the western coast of Italy has launched a full blown criminal investigation into the alleged negligence of the ship's captain. Francesco Schettino, captain of the Costa Concordia, was taken into custody Saturday and Italian media have indicated that he could be charged with numerous counts of manslaughter and abandoning ship, among other charges. Three passengers have been confirmed dead, and many more are still unaccounted for after the ship began taking on water around 10:30 local time on Friday night.
As the ship began turning on its side near Giglio, panic spread in the dark of night. According to numerous passengers, many lifeboats were inaccessible as the ship began tilting into the water. The captain will have many questions to answer including: why was the ship so close to shore at all, why was there so much confusion once the accident occurred, why did ship's officials first claim it was an "electrical problem" and did the captain leave the ship hours before some of the passengers were able to escape?
Gianni Onorato, president of Costa Cruises, expressed "deep sorrow for this terrible tragedy," but admitted they were unable to answer all those questions at this time.
This amateur video has appeared of the rescue operations:
Watch passengers share their stories via CNN below:
So far no video of the chaos on the ship itself has emerged but we briefly thought there was after the New York Observer tweeted out tonight "#Concordia disaster captured on video. bit.ly/xJcyTo."
Maybe we should have known better but we raced to see what video they had obtained and immediately wondered why it looked so familiar. It turns out they posted an old raw video from 2008 of another ship going though rough seas claiming it was the Costa Concordia. (Screen shot below)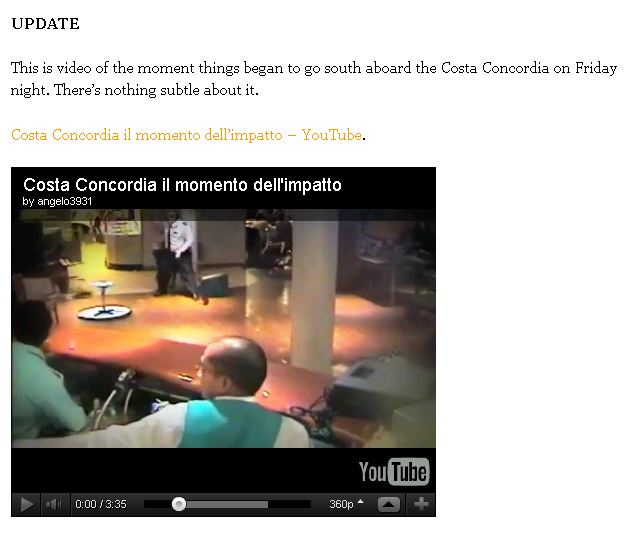 Update: The Observer removed that video claiming "legitimate questions" had been raised "about its provenance." Well I am not sure what questions were raised but here is the answer. The video (from 2008) they posted appeared in this CBS News report in 2010 (Video below). Sometimes its just easier to say we were wrong.
Have a tip we should know? tips@mediaite.com