Carl Paladino Apologizes for Controversial Obama Comments; I'm Not a Racist, I Was 'Wired Up'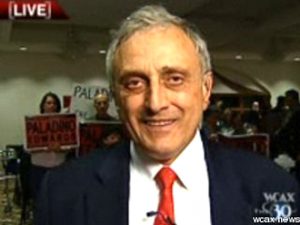 Buffalo politician Carl Paladino is walking things back from his remarks wishing death on President Obama and saying that Michelle Obama should live with apes in Africa.
Paladino has been taking flak ever since his remarks were published by Artvoice last week, drawing condemnation from Donald Trump's team, his family, and various public figures. Paladino sent a response to this to WBEN, and in a live reading, the statement said he "never intended to hurt the minority community who I spent years trying to help out of the cycle of poverty in our inner cities. To them I apologize."
Paladino said that he filled out the Artvoice survey in an emotional state of mind, where he was "wired up" after watching Obama's response to the devastation of Aleppo.
"Your survey questions provided me with the spark to vent and write deprecating humor about a bad President for whom the main stream media continues to seek an undeserved legacy. I wanted to say something as sarcastic and hurtful as possible about the people so responsible for the hurt and suffering of so many others. I was wired up, primed to be human and make a mistake. I could not have made a worse choice in the words I used to express my feelings."
Paladino also said that he intended to share his survey answers with only his friends, but he accidentally replied to Artvoice instead of forwarding his answers. He announced that he wouldn't give up his seat on the Buffalo School Board despite pressure from the "rabid hordes of attacking parasites we now call activist progressives."
"I've spent years dedicated to the mission to defeat the thought that the liberal progressive elitist establishment can continue to hold our minority children captive in the cycle of poverty simply to provide their voting base. I don't intend to yield to the fanatics among my adversaries. I certainly am not a racist."
Listen above, via WBEN.
[Image via screengrab]
— —
>> Follow Ken Meyer (@KenMeyer91) on Twitter
Have a tip we should know? tips@mediaite.com