Harry Reid on the Democratic Party: 'It Appears We're Going to Have an Old-Folks' Home'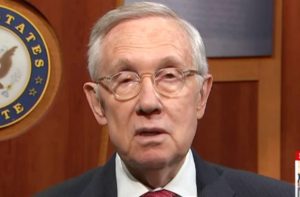 In a lengthy profile piece in New York Magazine, outgoing Senate Minority Leader Harry Reid discussed the future of the Democratic Party, especially with him the prospect of him no longer being in the Senate to act as the vocal opposition to the incoming Trump administration.
While covering Reid speaking to his staffers earlier this month ahead of his final weekly lunch with Senate Democrats, the Nevada Senator was observed giving his thoughts on the possibilities the party had for the White House in 2020.
Another aide brought up Joe Biden's recent remark that he was thinking about running for president in 2020. "Would you support him?" she inquired.

"It depends on who's running," Reid replied. "It appears we're going to have an old-folks' home. We've got [Elizabeth] Warren; she'll be 71. Biden will be 78. Bernie [Sanders] will be 79."
One younger potential candidate that has been talked about quite a bit is Sen. Cory Booker (D-NJ), who is currently only 47. Other possible contenders who won't be in their 70s are Sen. Amy Klobuchar (D-MN) and Sen. Kirsten Gillibrand (D-NY).
The piece also covered the realization among Democrats on Capitol Hill that Reid won't be around any longer to act as an attack dog against Republicans and President-elect Donald Trump. Democrats acknowledge that his successor as Minority Leader, Sen. Chuck Schumer (D-NY), was anointed more because of the feeling that he'd "be a very good majority leader under President Hillary Clinton, and that's what he thought he was signing up for."
[image via screengrab]
–
Follow Justin Baragona on Twitter: @justinbaragona
Have a tip we should know? tips@mediaite.com