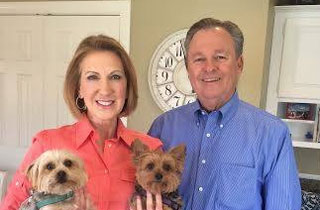 With Carly Fiorina's entrance into the 2016 presidential race, her husband Frank Fiorina gets to be a trailblazer, too: he will be the first high-profile campaign husband who is not named Bill Clinton.
Yes, that's a joke, but as he told a Washington Post reporter, not every husband is a charismatic former President of the United States. "He's one of the smartest people in the world," Fiorina said, admitting that he was somewhat "intimidating".
So how do you set the standard of being a normal campaign husband? Just pull a Michelle Obama and take a reporter with you on the world's most self-aware Costco run:
Political spouses typically find themselves referred to as a candidate's "secret
weapon," trusted with "humanizing" their otherwise remote/robotic/pompous partners. Is it sexist to reduce women to little more than props for their politically ambitious husbands? Is it silly to call someone who has a public role on a campaign a "secret "? Can the new crop of political husbands escape the burdens of playing campaign humanizer? Yes, yes and no.

"I think that's evident by me walking around Costco talking to a reporter," Fiorina said, looking for a replacement electric toothbrush for his wife.
A Costco member since 2003 (he pulled his membership card out at one point as proof) Fiorina used the opportunity to open up about working-class childhood, his marriage to Carly, his experiences struggling to accept her success as the CEO of Hewlett-Packard, and his decision to retire at the age of 48 to support his wife's career, and the impact of his daugther's death from a drug overdose — all while shopping for toilet paper.
All in all, he spoke about normal campaign spouse stuff — except this time it came from a dude. "This is really weird, you guys," he joked at one point.
(Yes, we also realize that Marcus Bachmann was a male campaign spouse, too, but as far as we can tell he wasn't an active campaign spouse, in that he didn't go out of his way to give a humanizing touch to his wife.)
[Image via Carly Fiorina/Facebook]
— —
>> Follow Tina Nguyen (@Tina_Nguyen) on Twitter
Have a tip we should know? tips@mediaite.com