Carson: Refugees More Likely to be Radicalized in U.S. Due to Cultural Resentment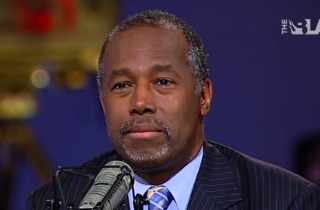 Ben Carson elaborated on his Syrian refugee position today, saying that allowing them into America would only fuel radicalization by their being surrounded by a culture that does not reciprocate their value system.
Carson took a trip to Jordan recently in order to meet with refugees and get a first-hand account of how they dealt with the civil war and violence from ISIS. Carson has already mused on the condition of refugee camps and said that bringing them to the US won't solve the problem, but on Breitbart News Radio, he explained that bringing them here would only expand the possibility of radical Islamic activity.
Carson largely felt that it would be much easier to have the refugees enter into a society with similar values to their own, rather than ask them to adapt to American culture:
"You bring a lot of people here from another culture and what they will tend to do is congregate together, that's a natural thing, which makes them much easier targets for radicalization, particularly if you bring them into an environment where a lot people of are resentful of the fact that they are here. That's just going to create incidents that will increase further the likelihood of radicalization. So again, why would anyone even be thinking about doing something like that?"
Carson said he will be announcing his own refugee strategy shortly, but has largely insisted that sending aid would be a preferable course of action. Ultimately, Carson said, the solution to the crisis would be to find a way to end to the Syrian civil war.
Listen to the interview with the audio above, via Breitbart News Daily.
[h/t Buzzfeed]
[image via screengrab]
Have a tip we should know? tips@mediaite.com