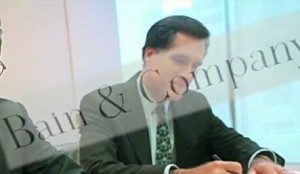 Like gullible hicks painting Tom Sawyer's fence, everybody is getting in on the effort to defend Mitt Romney and Bain Capital from the candidate's own discredited claims of job creation. Aside from weak-tummied Democrats, the mainstream media has abetted Romney in his effort to make the whole mess go away, as best exemplified by a CBS News piece that claims the attacks aren't resonating, without any real evidence to support that claim.
Spoke one in the rush to Romney's defense was to mislead people into thinking the President was attacking "free enterprise," even while critics were saying, in the same breath, that scrutiny of Romney's job creation claim was fair game, and that Bain's mission has nothing to do with creating jobs.
President Obama did a fine job of course-correcting earlier this week, and spoke two, projecting by accusing the President of hypocrisy on the issue, was rolled out, bobbled for a moment, then smacked down.
Now, the political press, along with the rest of the mainstream media, wants to convince us that the President's challenge of Romney's private sector record, which he says will be a major part of his campaign, just isn't working. From CBS News' Jan Crawford:
In the past two weeks, the Obama campaign has rolled out several attacks on Romney and his time at Bain Capital.

"He's running for president, and if he's going to run the country the way he ran our business, I wouldn't want him there," a steelworker says in one ad.

But so far, it's not working.
Well, we know it's not "working" on people like Harold Ford, Jr. and Steven Rattner (actually, it is working on Rattner), or on people like Jan Crawford, but how do we know it isn't "working" with voters? Crawford explains:
Instead of a bump in public opinion for the president, recent polls show Romney's approval ratings on the rise — and sharply so in the key swing state of Florida.

With the attacks failing to resonate, the Obama campaign is hitting even harder.
So, a poll that was taken from May 15 (the day after President Obama's campaign released its first Bain ad) and May 21 (the day President Obama responded to attacks on his strategy) that shows Mitt Romney up in Florida, a poll that doesn't ask any questions remotely related to Bain Capital, proves the strategy isn't working?
What, then, do three other polls (including of Florida) taken during that same time period that show President Obama leading Romney, prove?
What does it prove that President Obama has actually gained a point in the Gallup Daily Tracking Poll since the first ad came out?
Well, they prove nothing about the Bain ads, since they didn't remotely ask about them, and since the results are at best contradictory, and at worst, statistically insignificant.
What is interesting, though, is that if CBS News did want hard data on the effectiveness of attacking Mitt Romney's tenure at Bain Capital, they could have turned to…CBS News:
Attacks on Romney Proved Successful

Gingrich aggressively attacked Romney's years as the head of Bain Capital, an investment company often focused on turning around underperforming businesses. He described it as "rich people figuring out clever legal ways to loot a company." "Winning Our Future," a super PAC supporting Gingrich, even released a 28-minute television advertisement characterizing Bain Capital as ruthless job-killers.

These campaign barrages proved quite influential on Saturday. More than a quarter of South Carolina Republican primary voters – 28 percent – had a generally negative view of Romney's background of investments and restructuring companies. Of those voters who had a negative view of Romney's days at Bain Capital, 50 percent cast ballots for Gingrich, while a miniscule 3 percent voted for Romney.
Not to pick on CBS News, during their exclusive interview last night, MSNBC's Chris Matthews also let Newt Gingrich get away with saying that the Bain attacks didn't work. Here's a look at how Gingrich was polling in South Carolina the day he released his first anti-Bain ad, and how he ended up:

Gingrich gained nearly 14 points, while Romney lost about three. That's fairly convincing evidence that attacking Romney's record at Bain works pretty damn well, and that was with Republican voters.
I will leave it to others to explain why the media is so invested in this Bain strategy not working, but clearly, they are.
Have a tip we should know? tips@mediaite.com