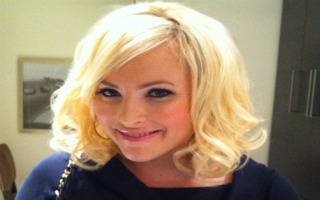 MSNBC contributor Meghan McCain appeared on Rev. Al Sharpton's program on Thursday, where she said that the Republican party treats her like a "freak" and a "mutant" simply because she holds some moderate views on divisive social issues. McCain has often made herself out to be a victim of close-minded conservatives who simply reject her for her less-than-dogmatic policy preferences. But McCain forgets that she has made a career of being a contrarian – her vehicle for getting air time consists almost entirely of starting fights with Republican pundits and lawmakers.

RELATED: Meghan McCain Takes Dig At Breitbart On Al Sharpton, Claims GOP Treats Her Like A 'Mutant'
After Sen. John McCain's 2008 presidential bid, his daughter emerged as the most prominent figure to rise from the ashes of that defeat – with the notable exception of former Alaska Gov. Sarah Palin.
But in 2009, McCain emerged as a pugilistic voice when she told critics of her figure to "kiss her fat ass." U.S. News and World Reports and Politico editorials from the time branded her "the future of the Republican party" for her pugnacity and forthrightness. At the time, it appeared as though they were on to something.
McCain even played along with the popular conservative theme of attacking the media – as she did in a 2009 interview with Mediaite's Tommy Christopher. McCain said that "Walter Cronkite, Edward R. Murrow and Peter Jennings are probably rolling around in their graves at the state of today's media." But it was this year that McCain found her voice – which she used most frequently to attack her fellow Republicans.
In a March 2009 column in The Daily Beast entitled "My Problem with Ann Coulter," McCain outlined why she feels Coulter is a bad representation of the GOP:
I don't like her demeanor. I have never been a person who was attracted to hate or negativity… Everything about her is extreme: her voice, her interview tactics, and especially the public statements she makes about liberals. Maybe her popularity stems from the fact that watching her is sometimes like watching a train wreck.
McCain had high profile feuds with conservative columnist Michelle Malkin and radio host Laura Ingraham over her book ("Dirty, Sexy Politics"). In an interview with Fox News Channel's Bill O'Reilly, McCain advocated that the GOP rebrand itself as "sexy."
But the biggest fight between McCain and a cadre of female conservative voices came after she tweeted a picture of herself that showed a significant bust line. McCain was furious that her attention-seeking picture actually garnered attention. In 2012, she revealed that she was seeing a therapist to deal with the media's reaction to her body – images of which she tweets regularly and showed off in a nude public service announcement (an attempt to raise skin cancer awareness – a condition her father had suffered from).
The nude PSA and the controversy surrounding her picture, what she termed "boob-gate," garnered her some negative attention from conservative opinion makers. Glenn Beck mock-vomited when he discussed the nude PSA, for which he was rightly scolded by O'Reilly and radio host Don Imus.
But McCain then played up the controversy and her victimhood. She wrote a denunciation of Beck in her column in Daily Beast and appeared on Jay Leno's late night program to discuss the event. "No man will ever make me a victim," McCain told Leno. No need, she is doing it to herself.
McCain wonders why she draws the ire of conservatives, but continues to say things that she has to know will be deemed as ire-worthy by the right. McCain has attacked Malkin, saying she went on a "manic rampage" when Malkin mocked McCain for tweeting a picture of herself with liberal activist Sandra Fluke when they met at a White House Correspondents'' Dinner. McCain went after Greta Van Susteren for inviting actress Lindsay Lohan to the WHCD. McCain has equated herself with Ronald Reagan for holding moderate views, and said "dirty moderates like me" have no home in the party.
But while McCain has started more than her share of fights with conservative pundits, she seems to spend the majority of her time attacking Republican office seekers and holders.
She called former Delaware Senate Candidate Christine O'Donnell a "nut job" who is "out of her frickin' mind" during her 2010 campaign.
She went after the Republican primary process in 2012, which she called "bad for politics and bad for the Republican party." This was an odd observation, given that she is on record saying that Republican primary voters are far too provincial even to watch premium cable programming like HBO.
Nearly every Republican primary candidate – save for likely GOP nominee Mitt Romney – has suffered McCain's wrath. She equated Businessman Herman Cain's rise in the GOP last October with speed dating, saying that the party had reached "the end of the date" when his poll numbers began to sink.
She blasted former House Speaker Newt Gingrich regularly – she called his campaign a "vanity project" and called the Speaker "a hot air balloon." She said that Gingrich's attacks on Rep. Michele Bachmann (R-MN) during primary debates amounted to sexism. She called his wife Callista an "icy" "mistress." When it was clear that Gingrich's rise in the GOP was not going to end any time soon, McCain said it would be the end of the party as a political force if he won the nomination.
Gingrich, after repeated assaults, said that McCain amounted to a "conservative thinker" by the "standards of MSNBC."
McCain levied similar attacks on former Pennsylvania Sen. Rick Santorum who she called a "moron" and warned there would be "hysteria" if he were to take the nomination. She has said that Virginia Gov. Bob McDonnell presiding over a legislature which passed ultrasound laws which angered abortion rights activists made him a "toxic candidate."
But perhaps McCain's longest-running feud is with Palin. McCain had said in 2009 she was "conflicted" about Palin, but that conflict soon matured into outright revulsion.
She has said that Palin has a "tabloid attention-getting quality" that her family does not possess. She criticized her hunting abilities and called Bachmann a "thinking man's Palin."
McCain attacked Palin for not criticizing conservative radio host Rush Limbaugh when he used the word "retarded" with the same ferocity as she had criticized Chicago Mayor Rahm Emanuel. McCain also criticized her for doing a reality show on TLC network, which she said was not the "most presidential behavior."
Sarah Palin's daughter Bristol has repeatedly defended her mother from McCain's attacks, but Palin herself has never responded to the MSNBC commentator's gratuitous criticism.
McCain fancies herself a victim – beset on all sides by nasty tyrants from within the GOP. She lobbies against hate and prejudice, but it is McCain who is often the bully. Let me be clear, conservatives who underestimate her intelligence do not get it. She seems to know exactly what she is doing and how to do it. By attacking conservatives, she appears to win friends on the left. But McCain never demonstrates any self-awareness about how and why conservatives would be upset with her conduct. Perhaps she should take stock of her long history of aggression towards her fellow Republicans.
Have a tip we should know? tips@mediaite.com