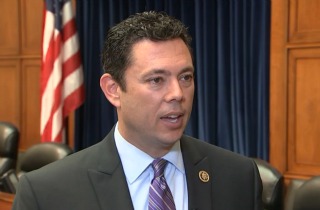 Rep. Jason Chaffetz (R-UT), who is vying to become the next Speaker of the House, took a shot at rival Speaker hopeful Rep. Kevin McCarthy (R-CA), suggesting the House majority leader is not a ready and able communicator.
"In general, we need a Speaker who speaks," Chaffetz said in an interview with NBC News. "Generally, the Speakers have had a very silent role. We haven't won the communications war."
Chaffetz, who announced his long-shot bid for the top job in the House on Sunday, said outgoing House Speaker John Boehner did not actively promote the GOP's agenda and was not proficient at communicating the party's message to the American people, adding that McCarthy wouldn't be any better.
"We all have talents and things we can use better than others," he continued. "And I'd like to fill that role, in part, to win the communications battle."
Chaffetz has insisted that McCarthy does not have the 218 votes necessary to be elected Speaker, and said on Monday that the majority leader's support is "dwindling, not growing."
McCarthy has been under fire in the past week for comments he made connecting the House Select Committee on Benghazi's investigation with Democratic presidential frontrunner Hillary Clinton's falling poll numbers. Democrats viewed that as an admission of what they perceived all along. Chaffetz was one of the Republicans who condemned the remarks, and called on McCarthy to apologize. McCarthy later sought to clarify himself, insisting it was "never his intention" to imply that the committee's work was political.
Watch the video below, via NBC News:
[Image via screengrab]
— —
>>Follow Andrew Desiderio (@desiderioDC) on Twitter
Have a tip we should know? tips@mediaite.com