Charlie Kirk Defends Candace Owens' Smear of #MeToo in Leaked Chats: 'Don't Publicly Go After Our Allies'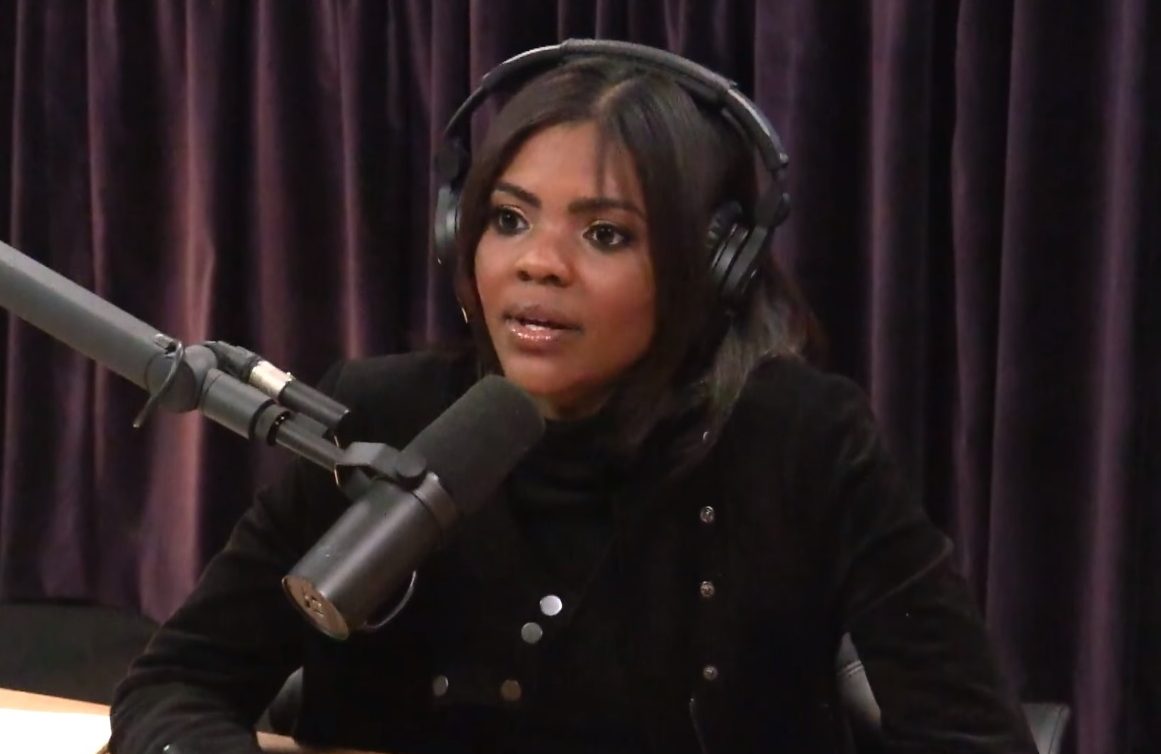 Turning Point USA head Charlie Kirk — the college dropout who runs a college-focused political nonprofit known for advancing Donald Trump's agenda, racism, and adult diaper-wearing — defended his communications director Candace Owens in leaked group chats after she smeared victims of sexual misconduct as "weak" and "stupid."
The controversy began when Owens, a far-right pundit who gained prominence in the conservative movement by appearing on the conspiracy network InfoWars and receiving an endorsement from Kanye West, launched a victim-blaming attack against the #MeToo movement.
The entire premise of #metoo is that women are stupid, weak & inconsequential.
Too stupid to know what men might want if you come to their hotel room late at night.
Too weak to turn around and tell someone not to touch your ass again.
Too inconsequential to realize this.

— Candace Owens (@RealCandaceO) June 11, 2018
The post was quickly condemned by many Twitter users, including a large number of conservatives.
This led Kirk to take to a TPUSA chat on the app GroupMe and demand that the group's activists not "publicly go after our allies" in the name of preserving the nonprofit's image — an interesting request, given the conservative wunderkind's constant mocking of "the left's" supposed opposition to open debate.
"Candace is a rockstar for conservatives and our movement," Kirk wrote in messages leaked to Mediaite. "Don't publicly go after allies. Message her here, message her privately, email her if you disagree."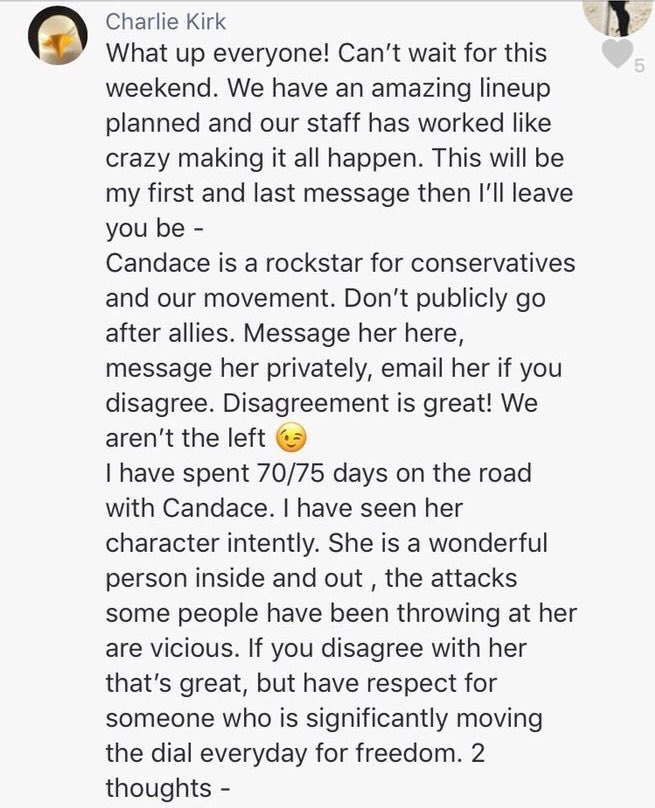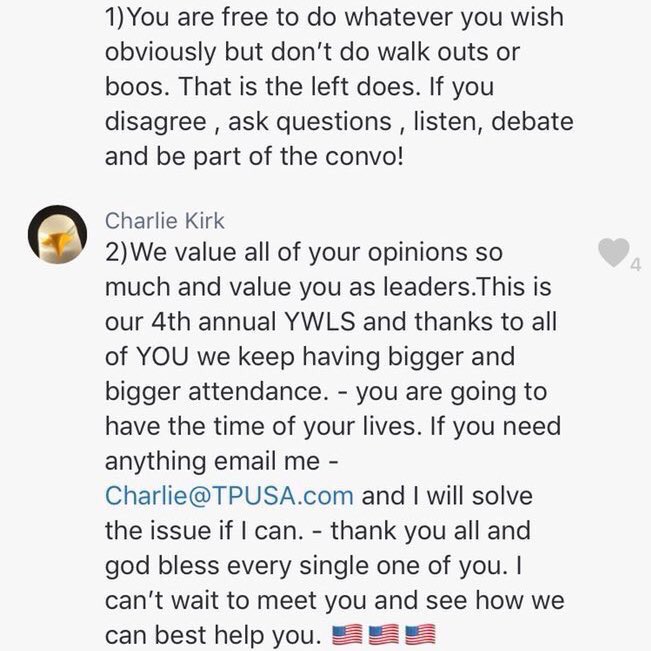 He continued by saying that activists attending TPUSA's upcoming Young Women's Leadership Summit "are free to do whatever you wish," but barred the activists from doing "walk outs or boos" against Owens when she speaks. Incidentally, Owens' speech at the conference will be a continuation of her crusade against the #MeToo movement.
Owens used the chat to privately ask that TPUSA activists publicly defend her.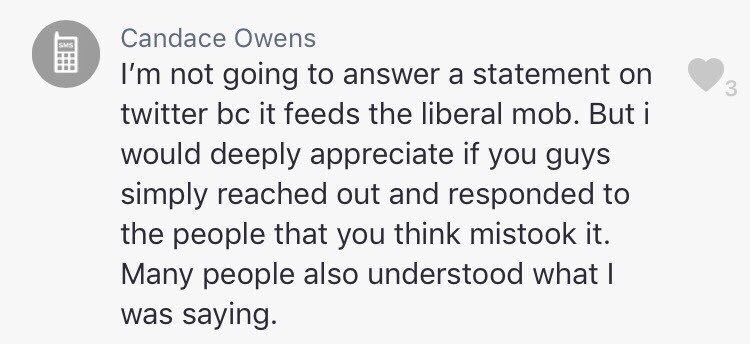 She followed up this request by posting a livestream where she called the #MeToo movement "a witch hunt on men," per Media Matters.
As for the previously mentioned criticisms of Owens by conservatives, below are just a few of the tweets activists and others shared denouncing the TPUSA staffer. Among them include right-of-center women voicing their opposition to Owens, a conservative group cancelling their appearance at the group's conference this week, and even one activist alleging that she was "sexually harassed" by a member of TPUSA:
.@RealCandaceO, you have a fast-growing platform and are an important voice for many young women. I'd love to get together while we are both at #YWLS2018 this weekend. As a survivor of rape, I respectfully disagree with your interpretation of #MeToo. https://t.co/nHVObCB6tJ

— Kimberly Corban (@Kimberly_Corban) June 11, 2018
How we speak about abuse victims matters. Countless survivors watch and hear these messages, weighing whether they will be judged for speaking out—for reporting—for trying to carry on in the face of shame or guilt that does not belong to them. Don't add to that burden. #MeToo

— Kimberly Corban (@Kimberly_Corban) June 11, 2018
I can assure you that no survivor views finding their voice and speaking out about their experience "trendy." Sexual assault is not a trend – it's the truth. Real victims who deserve to be heard are afraid to say anything because people like you ridicule them. https://t.co/j5shacM1gU

— Danielle Butcher (@DaniSButcher) June 12, 2018
Candace… this is a bad tweet. Rape and sexual assault most definitely happens and does not make someone stupid or weak. While I'm critical of the #MeToo movement for a few reasons… this most definitely isn't one of them. Come on. https://t.co/LkAn9oBkPZ

— Cassandra Fairbanks (@CassandraRules) June 11, 2018
hell if were gonna go there, I was sexually harassed at a conference that @TPUSA sponsored students to go to and a TPUSA "activist" was a guy who kept pressuring me to have sex with him. No wasn't enough so he locked me in his hotel room and pinned me down until his roommate came

— Cameron Wallace (@cam_wallaceee) June 11, 2018
No statement or apology from @TPUSA or @RealCandaceO regarding yesterday's tweet storm.

Your silence is deafening.

— Calli Norton (@CalliNorton) June 12, 2018
candace owens… more candace oh-no-baby-what-is-you-doin-wens

— Stephen N. Perkins (@Stephen_Perkins) June 12, 2018
I told myself for years I was stupid, weak and inconsequential because of what happened to me. I'm not letting Candace Owens call me that today. https://t.co/rn9cm9pSSY

— Morgan Sachs (@morganbsachs) June 11, 2018
Blocked by @RealCandaceO for calling her out on her abhorrent tweet blaming abuse victims for the abuse.

Never been so proud of a block. pic.twitter.com/yIbWvsMP0Y

— The Reagan Battalion (@ReaganBattalion) June 12, 2018
By letting their comms director, @RealCandaceO get away with calling rape survivors weak, stupid, and incosequential, @TPUSA is sending quite the message to survivors of sexual assault. https://t.co/nuIuxwktjQ

— Elise Yost (@EliseYost) June 12, 2018
ACC Rejects Comments From Candace Owens And Will Not Attend Turning Point USA's Young Women's Leadership Summit. #ywls2018 #metoo

Full statement: https://t.co/dzWrEwY4tH pic.twitter.com/zvbPR2l6Bc

— American Conservation Coalition (ACC) (@ACC_National) June 12, 2018
As someone who has reported on the #MeToo movement and actually spoken with survivors, this is such an ignorant take. Many people did speak up or report the harassment/assault and their organizations turned them into the problem and protected their abusers. https://t.co/pKhChYVHlc

— Amber Athey (@amber_athey) June 11, 2018
[images via screengrab]
Follow the author on Twitter (@calebecarma).
Have a tip we should know? tips@mediaite.com