Check Out The White House Special Coin Commemorating Trump's Summit With 'Supreme Leader Kim Jong Un'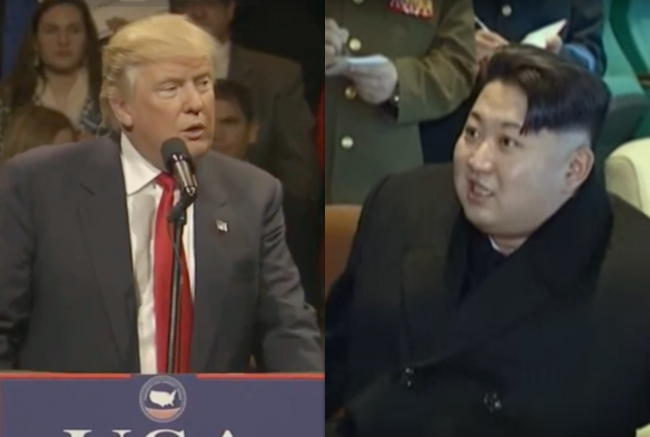 The White House Military Office has released an official coin for the summit between President Donald Trump and North Korean leader Kim Jong Un, which is slated to take place on June 12.
Less than a month to Trump-Kim summit, White House Communications Agency (WHCA) releases its "trip coin."
This is #74 of 250 made. pic.twitter.com/UTEJg1GyWv

— Peter Alexander (@PeterAlexander) May 21, 2018
The coin, which is one of just 250 made, features America's red, white, and blue national colors, while Trump, Kim, and the outline of the coin are silver. Despite all of the president's fiery rhetoric against Kim — who is a dictator — he is respectfully referred to on the coin as "Supreme Leader Kim Jong Un."
The coin led to a number of people mocking it on Twitter, as there is a chance the meeting will not even happen, as well as others bringing up similar trinkets from past presidents:
There's no way a president pre-pressing a challenge coin to commemorate a not-yet-held summit with the North Koreans could ever go wrong https://t.co/r2YkgGyb3u

— Adam Weinstein (@AdamWeinstein) May 21, 2018
It's sort of surprising that someone inside the Trump White House would think to put Dear Leader on equal footing w/ him on a commemorative coin. Then again…

— David M. Drucker (@DavidMDrucker) May 21, 2018
And we are SHOCKED! But isn't conflict of interest the coin of the realm in this White House? The raison d'etre? The blue plate special? https://t.co/7kwPmJlpOE

— John Huey (@johnwhuey) April 4, 2018
Is this normal? Did Reagan mint a coin pre-summit with Gorbachev? (*Not* comparing the leaders). Doesn't it seem super counter productive and risky? And putting a murderous dictator on an American coin? Also, who buys them? https://t.co/cT4iRuJgAr

— Julie Wilcox WX (@JulieWilcoxWX) May 21, 2018
You know, say what you will, but impressively, all the words on the coins are spelled correctly. https://t.co/oHFju0x5E9

— Charlotte Clymer?️‍? (@cmclymer) May 21, 2018
That Trump/Kim « coin » reminds me of my best souvenir ever, this heart-shaped lighter with GWB and Saddam (the fighter clicks up to reveal the flame). pic.twitter.com/WlhHmvszft

— Olivier Knox (@OKnox) May 21, 2018
As for the summit itself, Trump and Kim are expected to hold the historic meeting in Singapore where they will discuss North Korea's nuclear weapons program and the possibility of disarmament. The US expectations from the meeting, per National Security Adviser John Bolton, is a road to the complete and total removal of North Korea's nuclear weapons will be found.
However, North Korea has stated that no such resolution will be reached and threatened to drop out of the summit if the US continues pushing Bolton's line. This has resulted in Trump worrying that the meeting could be hurt his political brand and has questioned whether or not he should even partake in the Korean summit, per the New York Times. 
UPDATE –– 7:06 pm ET: White House principal deputy press secretary Raj Shah said tonight the White House "did not have any input" on the coin:
White House on trip coins: pic.twitter.com/GiXWP2G8X3

— Peter Alexander (@PeterAlexander) May 21, 2018
[images via screengrab]
Follow the author on Twitter (@calebecarma).
Have a tip we should know? tips@mediaite.com