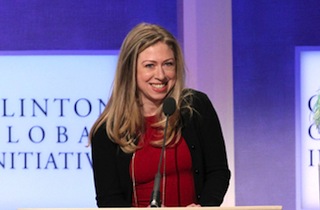 The Clintons are having one hell of a rough time talking about their own material worth.
Just a couple weeks after presumed 2016 candidate Hillary Clinton said her family had been "dead broke" upon leaving the White House, a comment she later had to clean up, and only one day after an interview in which the former Secretary of State distinguished herself from the "truly well off," a claim that elicited outright laughter from cable news, daughter Chelsea Clinton made a comment that is now being taken as more proof of the wealthy family's insularity.
In an interview with the Telegraph this weekend, Chelsea spoke of her restlessness after graduating from Stanford, and her desire to avoid the political life of her parents. "I've tried really hard to care about things that were very different from my parents," she said. "I was curious if I could care about [money] on some fundamental level, and I couldn't. That wasn't the metric of success I wanted in my life."
RELATED: Obama Advisor: Dems Should 'Panic' over Hillary's Wealth in 2016
The Clinton family is worth about $100 million, much of it gleamed from book deals and speaking engagements. It was recently reported that Clinton made $600,000 as a "special correspondent" for NBC News, while her husband is a hedge fund manager.
Meanwhile, Vice President Joe Biden just happened to mention how salt of the earth he is today.
[h/t Telegraph]
[Image via JStone / Shutterstock.com]
——
>> Follow Evan McMurry (@evanmcmurry) on Twitter
Have a tip we should know? [email protected]