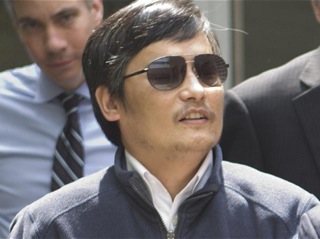 After a tense diplomatic standoff between the US State Department and China following his attempt to escape house arrest, Chinese dissident Chen Guangcheng and his immediate family are on a plane to New Jersey today after receiving sanctuary from the United States. Chen, who is best known for his activism against China's One Child Policy, was reportedly not told where he was going until arriving at the airport, but had faith that he was leaving for the United States.

RELATED: Chinese State Media Calls Chen Guangcheng A 'Pawn' Of The United States
After a four-year sentence followed by house arrest, Chen became the center of media attention in the United States a few weeks ago as he clamored to escape to the United States with Secretary of State Hillary Clinton, at the time in China, arguing that his life was in danger within the country, as were those of his wife and two children. According to ABC News, Chen left the country to study in America. State Department spokeswoman Victoria Nuland told the press: "We are looking forward to his arrival in the United States later today. We also express our appreciation for the manner in which we were able to resolve this matter and to support Mr. Chen's desire to study in the U.S. and pursue his goals."
The UK Telegraph also has some details on how Chen left the country and how last-minute the arrangements were, with Chen not knowing where he was going or when he would receive a passport until he was at the airport:
The Chinese authorities kept Mr Chen in suspense right until the last minute. Having only been allowed to fill out a passport application last Wednesday, Mr Chen and his family were whisked abruptly from the hospital in central Beijing where he has been held for the last two and half weeks to the airport in a heavily-guarded motorcade at around 12.30pm local time.

Even after he arrived at the airport, Mr Chen was not given any travel documents or a firm idea of his ultimate destination. "I still don't have a passport. I don't know when I am leaving. I think I am going to New York," he told reporters by phone.
Have a tip we should know? tips@mediaite.com