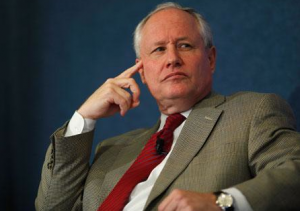 Mitt Romney's business background may not be as applicable to government as he says, The Weekly Standard's Bill Kristol and former GOP presidential candidate Jon Huntsman said on Wednesday. During a Brookings Institution panel, Kristol also argued that Romney's resume is rather "thin."
The Romney campaign has long argued that the former governor's business experience makes him well-equipped to run government as well. Huntsman questioned part of this assertion.
"I haven't seen a good example yet of a businessperson come into government and make it run like a business," Huntsman said. "We forget that the cultures are very different and I think the presumed outcomes are different as well."
He did note, however, that Romney is "very well-schooled in how you get deals done," which is an asset when it comes to dealing with the legislative branch (an area where Obama hasn't been very successful).
Kristol — who hasn't shied away from critiquing Romney — offered a similar view, adding his two cents.
"He has a thin resume for a presidential candidate," Kristol said. "He's a one-term governor in an atypical state … He didn't really run on much of an agenda to change things for Massachusetts."
He went on to critique how Romney's run his campaign. Via the Huffington Post:
The Weekly Standard editor stated that although Romney was a "pretty good" governor, his single greatest achievement was passing the Massachusetts health care law, which is now a major issue of contention within his own party. His lack of a true policy agenda, Kristol continued, reflects in the campaign Romney has chosen to run as he pursues the nation's highest office.

"[It's] not what I would have recommended to Gov. Romney. He's running a safe, 'let's try to have a referendum on the economy' campaign," Kristol said, adding that the Romney campaign's recent tactics are built on making the pessimistic case to voters that, "if you reelect Obama, the next four years will not be better than the last four years."
Looking forward, Kristol further remarked that Obama's reelection would be momentous.
"I think Republicans are underestimating how strong Obama will be in a second term," Kristol said. "[House Speaker John] Boehner will feel obliged to deal with Obama in 2013 if Romney has lost."
(H/T HuffPost)
Have a tip we should know? tips@mediaite.com