Chris Christie Ties Rand Paul for 2016 GOP Primary Lead as Ted Cruz Slips 5 Points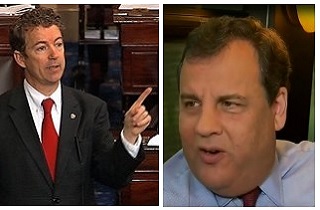 Senator Ted Cruz (R-TX) enjoyed a brief moment at the top of the 2016 Republican primary field, buoyed by his not-a-filibuster speech that preceded the government shutdown. What a difference a month makes, as Democratic-leaning (but dead-on accurate) Public Policy Polling now shows Cruz a close runner-up to Governor Chris Christie (R-NJ), who was a 6-point dog in PPP's last poll, and Sen. Rand Paul (R-KY), who regains (a tie for) the lead he held before Cruz's Sillibuster™.
Cruz was flying high a month ago, but the government shutdown that put Republican electoral prospects into a tailspin appears to have pulled Cruz back to Earth as well, and given Chris Christie his first lead in PPP's poll, albeit a tie for first with Sen. Paul:
PPP's newest Republican primary poll for 2016 finds essentially a four way tie at the top of the pack. Chris Christie and Rand Paul both get 16%, followed by Ted Cruz at 15%, and Jeb Bush at 14%. Paul Ryan at 11%, Marco Rubio at 10%, Bobby Jindal at 6%, and Rick Santorum at 5% round out the field.

The biggest change compared to a month ago is a 5 point decline in Cruz's support from its peak in the immediate aftermath of his long speech on the Senate floor. Bush has seen a three point increase in his support and Christie's had a two point bump, with Paul, Rubio, and Ryan all within a point of where they were last time.
The poll also shows good news for Democratic frontrunner Hillary Clinton, who has held commanding leads in almost every one of PPP's 2016 general election polls:
Hillary Clinton continues to be the overall frontrunner for 2016, leading all of her potential Republican opponents by at least 5 points. Chris Christie comes the closest at 44/39, followed by Jeb Bush at 48/39, and Rand Paul at 49/37. Clinton's average lead of 9 points in these head to heads is up from an average lead of 4 points on our July poll, perhaps another outgrowth of the shutdown. Clinton leads Ted Cruz 50/33- that 17 point margin would be the most a Democrat has won by since Barry Goldwater was on the ballot.
Christie is the current standard-bearer for the "electability" crowd, and the government shutdown bump could well wear off, but a Christie-Clinton race could be a perilous one for the abrasive New Jersey guv, who will have to thrad the needle in attacking the immensely popular Hillary Clinton.
Have a tip we should know? tips@mediaite.com