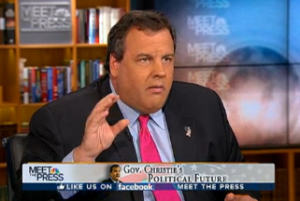 The media's Chris Christie week continues to kick into higher and higher gears, as the "Will he or won't he" speculation continues to fly in the face of "He won't" declarations by the NJ governor, and anyone who knows him. Now, Governor Christie's own brother, Todd Christie (if his friends don't call him "Whitman," they should) tells NJ.com that he won't, and ""If he's lying to me, I'll be as stunned as I've ever been in my life."
The renewed speculation around Gov. Christie's presidential (non) aspirations are fueled as much by the looming specter of a Mitt Romney nomination as it is by an uncorroborated statement by former NJ Gov. Tom Keane. Rick Perry's spectacular flameout has left the GOP without a shiny, base-pleasing alternative to steady, electable Romney. If Christie's brother is to be believed, though, this week's fever dream will be short-lived:
Christie's brother, a well-connected Republican fundraiser, said the governor hasn't changed his mind.

"I'm sure that he's not going to run," Todd Christie said. "If he's lying to me, I'll be as stunned as I've ever been in my life."

Three people close to Christie said they were surprised by Kean's comments to National Review, a conservative magazine. They said the two men hadn't spoken in about a week — Christie and Kean gave back-to-back speeches at a Homeland Security conference on Wednesday -— and they insisted that Christie wasn't going to run.
Perhaps Gov. Christie knows something that the salivating media don't. White House reporter Ken Bazinet throws some cold water on the reality of a Christie campaign:
Christie is a wise center-right Republican who is not afraid to take on his own party, but can you imagine the television spots the Tea Party candidates or their allies would run Christie were to jump into the race?

We would see Christie smiling with President Obama; Christie attacking the right wing over itscriticism of Sharia law; Christie saying he is not going to run because he is not ready for prime time; Christie saying family first (that is a good thing, by the way); and Christie criticizing Tea Party mascot and House GOP leader Eric Cantor for playing politics with federal disaster aid.
Bazinet is on to something. As I told Bill Press this morning, that Joisey attitude is only charming in measured doses, and there are things you don't really have to talk about at the state level that can become problematic in a national primary campaign. For example, Christie "is not a fan of" gay marriage, but he supports civil unions, which puts him out of step with the rest of the GOP field, who favor a federal ban on gay marriage.
Christie would also face an even steeper climb than Rick Perry did as a latecomer, with no campaign organization, and no boots on the ground.
With Sarah Palin's presidential intentions now awaited with all the anticipation of Kajagoogo tour dates, and Jeb Bush still insisting he won't run, either, Chris Christie may be Obi Wan Kenobi to the GOP establishment's Princess Leia. Unfortunately, he seem emphatic that he's not 'droid they're looking for.
On the bright side, for New Jersey residents, at least, 2016 now holds the promise of an all-Garden State matchup of Christie vs. Newark Mayor Corey Booker. Now, that would be something.
Have a tip we should know? tips@mediaite.com