Chris Wallace's Vitter Interview Had "No Ground Rules" But Didn't Touch On Aide Scandal, Primary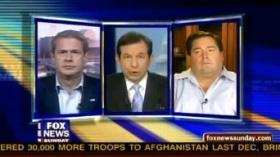 FOX News Sunday anchor Chris Wallace was praised here for his tough interview with Rep. Mike Pence yesterday, but it is his interview with Sen. David Vitter that has gotten the most attention.
It was an oil spill segment, but Wallace did not ask a single question about politics – which Vitter has been in the news a lot for lately. We asked Wallace why.
Wallace was criticized by Talking Points Memo and others for not asking about any big Vitter stories – his new primary challenger Chet Traylor, the resignation of his aide Brent Furer (after domestic violence reports) and NOW speaking out against him. "The oil spill is the biggest story in America," Wallace told Mediaite today. "We were focused in real time on Sunday morning on whether the containment was working, the cap was holding. That's a huge story on front page every paper America, leading every newscast. To get into political issues when you have a 10-minute interview…struck me as kind of off the point of the big story."
Wallace said there were no ground rules in place before the interview. "We would never agree to that and if we did we would tell the viewer," he said. "The whole point of interviews is they're unrehearsed, unedited and without ground rules."
We also asked Wallace about Howard Kurtz' column today about Republican candidates, like Sharron Angle, who "stiff" the mainstream press. Wallace said FOX News Sunday "would love to have Sharron Angle on" and they've asked since she won the nomination. "I kind of laughed at it," he said of the column. "On one hand he's talking about the fact that Sharron Angle would do an interview with Fox but why is there never mention of all the liberal Democrats who do interviews with the mainstream media?"
One thing Wallace didn't ask about last week was the New Black Panther case. He had David Axelrod on as a guest. "If I had two hours I would have asked him," said Wallace. "It certainly was a more appropriate question to ask Eric Holder than ask David Axelrod."
Finally, we had Wallace weigh in on the competition change happening at ABC's This Week – with Jake Tapper going out and Christiane Amanpour coming in after this week.
Of Tapper:
Jake's had a good run. I have to say, he certainly seems to have a good relationship with the administration because they've given him an awful lot of top White House guests over the period he's doing the show. If you were to look at who's been on his show, he's been able to get an awful lot top White House guests who don't seem anxious to come on FOX News Sunday. Most recently Vice President Biden, who used to be on FOX News Sunday all the time, hasn't been on since he was nominated for Vice President.
And Amanpour:
I'm curious to see it. She's obviously a first rate reporter, but she and ABC keep talking about how she's going to talk more about foreign policy and international relations. I'm curious to see if they're going to keep to that philosophy, particularly as we head into crucial midterm elections.
—–
» Follow Steve Krakauer on Twitter

Have a tip we should know? tips@mediaite.com