Christian Activists Set Up Giant Banner Just So They Can Block Atheist Display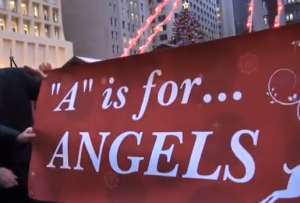 A secular group set up a giant red A in Chicago's Daley Plaza to make a statement about the separation of church and state, and a group of activists decided to retort by doing the Christian thing: placing a giant banner right in front of it. This led to quite the confrontation between the Christian activists and a rather outspoken counter-protestor in the plaza.
One woman cried, "You shouldn't be protesting the A. Protesting the A means that you are surrendering our freedom of speech!"
One atheist shot back that their freedom of speech is being limited by their display being literally blocked. Conservative commentator William Kelly explained why he wanted to put up the display in the first place.
"I talked to a number of people about it, they don't quite understand what the A stands for. When I tell them that it's for 'atheist,' they think it's in the wrong place at the wrong time. So what we've decided today is to do something positive and make the A stand for 'angels,' and as Christians, especially at Christmastime, we want to have a positive message of love, we want to pray for the atheists"
He denounced the "hate speech" of the atheist display and saw nothing wrong with taking a stand.
Because really, I can't imagine any Christians getting angry at all if atheists were to set up a giant banner in front of a nativity scene.
Watch the video below, via Kelly Truth Squad:
[h/t Raw Story]
[photo via screengrab]
— —
Follow Josh Feldman on Twitter: @feldmaniac
Have a tip we should know? tips@mediaite.com
Josh Feldman - Senior Editor