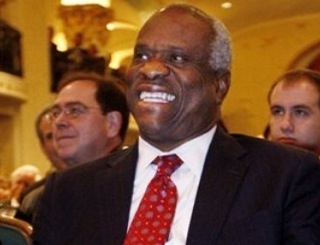 Supreme Court Justice Clarence Thomas visited the University of Kentucky this weekend and had a light-hearted and heartfelt chat with some of the students and professors at the law school, there to deliver the school's annual Ray Lecture. The Herald-Leader described the event as more of a "living-room chat," however, where the Justice unwound and spoke of his family, upbringing, and political views.

RELATED: New Republic: Clarence Thomas Leads The 'Legal Arm Of The Tea Party'
The report notes that Justice Thomas jokingly replied "Oh, God, no!" to a student asking if he read the New York Times every day and divulged his 60th birthday celebration plan: a trip to Cracker Barrel. He claims he doesn't play sports or engage in much leisure save reading, and described himself in law school as a "'meat and potatoes' guy."
He also had some emotional words about his family, saying his grandfather was the "greatest man he ever met," and saying he'd "kiss their feet and thank them" if he could have time with his grandparents today. Of his colleagues he had only good things to say, and of his hometown, that he would prefer no other:
"I was treated a lot better in the South than I was ever treated in the North," he said. In his high school, where he was the first, or one of the first, black students, "nobody ever said I was inferior."

Thomas described the Supreme Court as a "wonderful place" that "might be better than we deserve." He said the other justices are "good people" and his friends; he's never heard an unkind word among the nine justices when they discuss legal cases. He said he would like to introduce each person in the audience to his colleagues.
Have a tip we should know? tips@mediaite.com